5 early realistic Mets starting left fielder options for next year ranked
Who starts in left field for the Mets next season?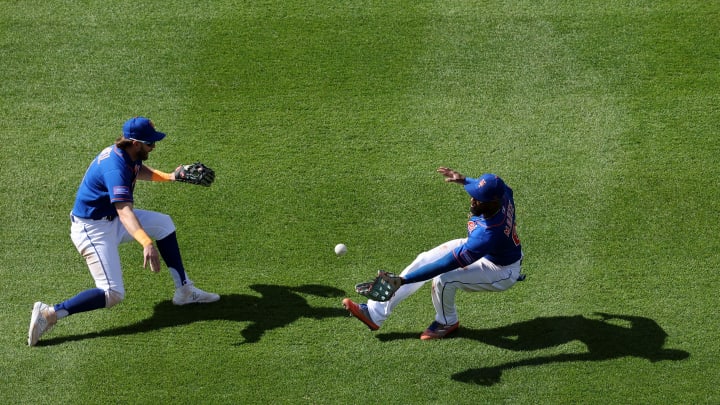 May 1, 2023; New York City, New York, USA; New York Mets right fielder Starling Marte (6) catches a / Brad Penner-USA TODAY Sports
The 2023 New York Mets will be in search this offseason for a left fielder. They can go with some internal options at the position or look outside in free agency or via trade.
Left field is a somewhat strange position. It's not as loaded as it used to be. This has become a spot where some of the weakest defenders will find themselves playing. Many outfielders breaking down will find their way into left field from one of the other outfield spots. There are certainly some exceptions, however, this tends to be a spot lacking superstar players.
No one should expect the Mets to make any significant move at this position. What they could always do is move another player currently on the roster over there. That's where some of these realistic Mets starting left fielder options for next season come into play. Let's rank five that make the most sense.
5) NY Mets starting left fielder candidate: Jurickson Profar
Jurickson Profar hung around in free agency for a long time last winter before signing a one-year contract with the Colorado Rockies. He was definitely a candidate to sign with the Mets before the team decided to go with Tommy Pham instead. It was the right choice in retrospect. Profar didn't even make it through the season with the Rockies. A late August DFA put an end to that experiment.
Profar has put together another non-exceptional season even with the aid of Coors Field. He's a low batting average player with a reasonable OBP. He won't hit for a ton of power either. He's a bottom of the order hitter on any roster. The final tally has him slashing .236/.316/.364 with 8 home runs in 472 plate appearances.
Little about Profar's game is notable at this point. He's predictable and maybe that's all the Mets look at this offseason when addressing a hole at the position. Signing Profar is the kind of move that'll confirm the Mets don't plan to win the 2024 World Series. He's a decent platoon player yet not the championship-caliber addition we'd want. Although he has played other positions in the past, left field has been where he has settled in.