NY Mets: The only 5 players to keep, the rest can go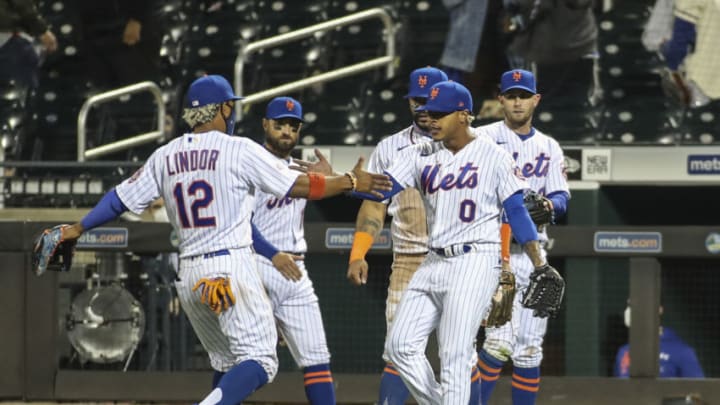 Apr 13, 2021; New York City, New York, USA; New York Mets pitcher Marcus Stroman (0) congratulates shortstop Francisco Lindor (12) after a double play against the Philadelphia Phillies to end the top of the sixth inning at Citi Field. Mandatory Credit: Wendell Cruz-USA TODAY Sports /
The 2021 New York Mets have been one of the most frustrating teams to watch in a long history of frustrating teams. It's hard to remember a year where players that were so beloved became the targets of "get them outta here" before the season ended.
There have only been five Mets this season that have been worthy of being back in Flushing in 2021. Obviously, many more will be back because of their contracts but after a season like this, no one should be above being traded or released.
Who are the five Mets players?
Jacob deGrom
The first selection is a no-brainer. Jacob deGrom might be the best pitcher on the planet when he is healthy. In 2021 he barely holds on to this title because he hasn't pitched in the second half.
If all goes right (fingers crossed), he comes back next season and is the same pitcher on a Hall of Fame trajectory. You know deGrom will be looking to uphold his status as the game's best, so expect brilliance.
Marcus Stroman
Marcus Stroman has been a godsend for this team. He's stepped into the role of Mets ace while deGrom has been out. Back in June, a couple of starts saw him falter a bit and that coincided with the sticky stuff ban. It's looking like this was merely a coincidence because he's killing it on the mound right now.
His fiery attitude might rub some people the wrong way, but he's built for NY. So many players on this team seem to lack any passion or field grit, and Stroman has both of those in spades.
He needs to be a priority signing for next season.
Taijuan Walker
Taijuan Walker wasn't expected to do much but he wound up being the steal of the season. Much like Stroman, he had a hiccup of starts where he just wasn't getting it done. He has since righted that ship and is pitching at an all-star level again.
The Mets have him for two more years after this, and honestly, he could get even better. That's two more years hanging out with deGrom, two more years playing in a pressure-packed New York, and two more years removed from injuries.
Mets fan, be excited to see what Walker becomes.
Aaron Loup
Aaron Loop had a track record of being a pretty good relief pitcher but no one could have predicted just how much of a force he could be. While he might give up other people's runs (sorry Walker), he doesn't give up his own.
With an ERA around one, he's almost been perfect this season. While every guy in the Mets bullpen has had stellar moments, no one has been able to touch Loup's consistency.
His team-friendly one-year deal for perfect but in 2022 look for him to seek more money, and Mets – give it to him.
Jonathan Villar
It was a real struggle to find even one offensive player to have on this list. Pete Alonso might be the easy answer, but going to skip him for now (more on that later). Jonathan Villar much like Loup was a very unexpected surprise. He has had good seasons in the past but he's also had bad ones.
Villar has been asked to play three different positions this season all while being swapped in and out as a starter and bench player almost weekly. He's had some big hits and while his baserunning drives Mets fans crazy, it also drives opponents crazy too.
Villar is one of those "glue guys" that every team needs. For periods of time in May he was the catalyst of a team that barely had a major leaguer in sight. He's also on a team-friendly one-year contract and needs to be brought back next season.
The rest of the Mets
The above players are all answers and fill specific needs that others do not.
Francisco Lindor, James McCann, Carlos Carrasco, Edwin Diaz, and others will obviously still be here next season. If we're being honest though, with the exception of Diaz in flashes, have any of these players been worth their contract?
Based on their performance this year, if these players didn't return next year, would the Mets be in worse shape than they are now?
Players such as Dom Smith, J.D. Davis, Jeff McNeil, and others have been a huge disappointment this season. There is a chance they can bounce back, but the Mets could easily take a risk in trading them and see what they bring back.
Pete Alonso, Brandon Nimmo, and Tylor Megill absolutely deserve to be on this team in 2021. The first two are essentially the only bright spots for the offense. However, as unlikely as it seems, Alonso is really the only offensive player of value on this team. Could he be flipped for some major pieces – maybe?
Nimmo has never been healthy in the major leagues. He may be an on-base machine but you have to be an on-field machine to have it matter. It's tough to consider him a starter when he gets fourth outfielder at-bats per season. He could be flipped for a major piece possibly.
What about Michael Conforto and Javy Baez? Conforto, unfortunately, it's time to go. Baez is not the type of offense this team needs. His excitement level is off the charts, but there are plenty of players that strike out on this team.
Other players such as Noah Syndergaard, Seth Lugo, Trevor May, Kevin Pillar, and on and on didn't really contribute in any meaningful way that says "the Mets must have them!" in 2022.
Want your voice heard? Join the Rising Apple team!
What do you think? Who are your MUST bring back players in 2022?