NY Mets: Five best player walk-up songs of all-time in Mets history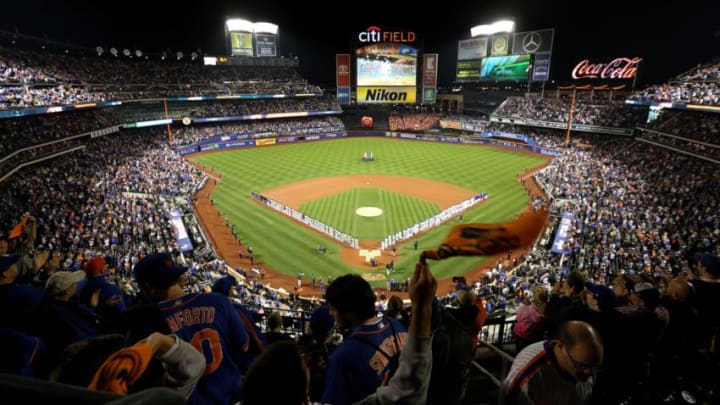 NEW YORK, NY - OCTOBER 05: A general view during pre-game ceremonies for the National League Wild Card game between the New York Mets and the San Francisco Giants at Citi Field on October 5, 2016 in New York City. (Photo by Michael Reaves/Getty Images) /
One of the best New York Mets walk-up songs belongs to Noah Syndergaard (Photo by Elsa/Getty Images) /
4) Noah Syndergaard – "Game of Thrones theme music" by Ramin Djawadi
Noah Syndergaard has shuffled between a few walk-up songs in his Mets career, but this one seems to match his personality and demeanor the best. Along with his association with a certain Marvel superhero, Syndergaard is also well-known for being a huge fan of Game of Thrones (he even made a brief cameo in an episode from 2017). Thus, it's not surprising that this epic theme music from GoT is one of Syndergaard's recent walk-up songs of choice.
When Syndergaard is at his best on the mound, his on-field presence is larger than life, and his pitches are sharp enough to send opposing batters walking helplessly back to their dugouts. His walk-up song reflects this desire to intimidate his opponents and establish himself as a force to be reckoned with on the field.
Though Syndergaard's last two seasons have been somewhat uneven, he is fully capable of dominance whenever he's healthy. Once he returns from Tommy John surgery sometime next season, Mets fans can look forward to hearing Game of Thrones music blaring from Citi Field during his starts once again.
3) Daniel Murphy – "I'm Shipping Up To Boston" by the Dropkick Murphys
Whenever Daniel Murphy came up to bat for the Mets, it always felt like St. Patrick's Day was right around the corner. One of his preferred walk-up songs in Queens, which he still uses, was this thumping anthem from the Dropkick Murphys. The obvious connection between the band's name and Murphy's own surname may have made this a clear choice for walk-up music.
However, I always liked Murphy's walk-up song purely for its musical qualities. The opening of the song is the perfect hype music to get a ballplayer pumped up for any at-bat, whether it's a scoreless game in the 2nd inning or a potential game-winning at-bat in the 9th.
Despite his defensive miscues, from 2008-2015, Murphy was consistently one of the best hitters on the Mets. Hearing his walk-up song also reminds of when he went on an absolute tear in the 2015 postseason, hitting a home run in a record six consecutive postseason games. Though he went on to have two of his best seasons immediately after that postseason when he joined the Washington Nationals, I will always associate his walk-up song with fond memories of a truly great hitter.
Home
/
New York Mets All-Time Lists