New York Mets: Is there room for infielder Adeiny Hechavarria?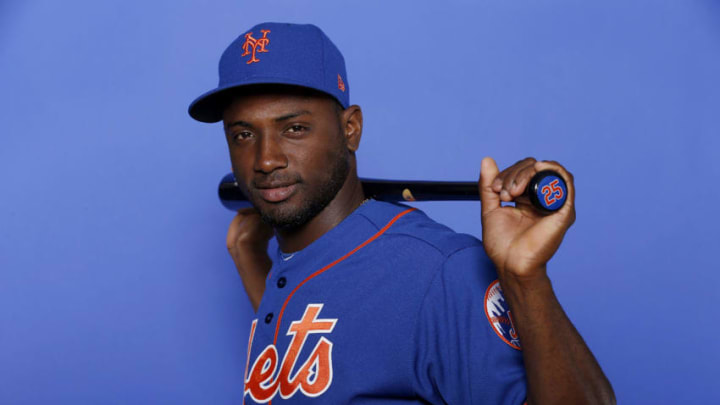 PORT ST. LUCIE, FLORIDA - FEBRUARY 21: Adeiny Hechavarria #25 of the New York Mets poses for a photo on Photo Day at First Data Field on February 21, 2019 in Port St. Lucie, Florida. (Photo by Michael Reaves/Getty Images) /
The New York Mets have added plenty of depth to their infield this offseason. Will one of the latest additions, Adeiny Hechavarria, make the Opening Day roster?
The New York Mets signed Adeiny Hechavarria to a minor league contract in mid-February with the idea that he'd be a defensive stalwart backing up shortstop and third base. With a plethora of depth already on the roster, it'll be interesting to see if Hechavarria makes the Opening Day squad.
First, we must assess the value of the contract Hechavarria signed. Unlike most minor league pacts, his contract includes a whopping $3 million base salary in the majors with up to $2 million in incentives based solely on how much time he spends on the 25-man roster.
There are two schools of thought as to what this large amount of money means for Hechavarria's chance of making the roster:
One way of thinking is that Hechavarria is talented and the Mets clearly hold him in high regard if they're willing to offer him $3 million guaranteed in the majors. Therefore, of course he will make the team.
More from Rising Apple
But, on the other hand, allowing Hechavarria to make the major league team carries more risk if ownership will have to cough up so much money.
$3 million may not sound like a lot, but it's still about five or six times what guys like Brandon Nimmo, Keon Broxton, or Amed Rosario will make in 2019. Hechavarria's presence doesn't threaten to take away playing time from any of these guys.
But, is he really worth taking a bench spot away from J.D. Davis, Dominic Smith, Dilson Herrera, Gavin Cecchini, Luis Guillorme, or T.J. Rivera when they're all much cheaper and controllable?
Maybe. But only for one reason: Hechavarria plays shortstop.
The Mets hesitantly declared Rosario's backups at short to be Jed Lowrie and Jeff McNeil. Lowrie is already having knee problems and hasn't been a primary shortstop since 2014 while McNeil has only started a couple of minor league games at short in his entire career. Not the kind of insurance you want at a premier defensive position.
Hechavarria is an elite defender who has racked up 23 defensive runs saved at shortstop in his career. If something were to happen to Rosario, the Mets would be far more comfortable deploying Hechavarria down the middle compared to their other options.
The downfall is that he doesn't provide much offense at all, owning a career line of .254/.290/.345. Guys like Davis and Smith can out-hit Hechavarria any day of the week but are limited to the corners. While guys like Herrera, Cecchini, and Rivera play up the middle and hit about the same (probably a little better, actually) but lack the defensive abilities of Hechavarria.
You can also make an argument that Guillorme has as much defensive potential as Hechavarria, including a left-handed bat that hardly ever strikes out.
Keep in mind that all of these alternatives come at a fraction of the cost. Therefore, we must decide if a defense-first backup infielder costing $3 million is more valuable than players with a little more offensive upside and less defense costing league minimum.
Would you rather have a late-game defensive replacement like Hechavarria, or a pinch-hit bat like Smith, Davis, or Rivera? And, is a defensive replacement worth an extra $2.5 million over a pinch hitter? If so, is Hechavarria worth that much more as a defensive replacement compared to Guillorme?
Hechavarria is good. He is a reliable veteran whose athleticism and consistency is not in doubt. He makes most teams better, including the Mets
If the Mets decide his salary is chump change, then they'd be wise to add him to the roster. But, if they determine he isn't worth the commitment for such a small role, fans probably won't be shaking their fists at ownership unless catastrophe strikes and the Mets no longer have a shortstop.
While there are only so many roster spots to go around, it's still early and anything can happen. Spring Training creates clarity through performance evaluations and injuries alike. For now, it seems as though the Mets made a smart decision adding Hechavarria on a minor league deal.
Want your voice heard? Join the Rising Apple team!
Whether or not he plays for the Mets in 2019 will depend on what happens over the next month. Until then, decide how badly you want to see Hechavarria in an orange and blue uniform come the regular season.