Mets may have a tough time attracting free agents this offseason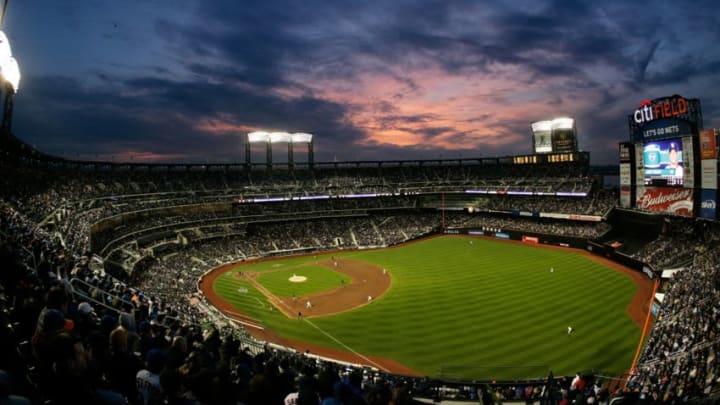 NEW YORK - APRIL 13: The San Diego Padres take on the New York Mets during opening day at Citi Field on April 13, 2009 in the Flushing neighborhood of the Queens borough of New York City. This is the first regular season MLB game being played at the new venue which replaced Shea stadium as the Mets home field. (Photo by Chris McGrath/Getty Images) /
After another losing season, the New York Mets may find it hard to convince free agents to sign with them this offseason.
The 2018 season has been a rough one for the New York Mets. Unfortunately, they may have trouble rebounding next year.
The Mets don't have a big budget to work with during the upcoming free agent class. While we should expect them to spend money, I'm not so sure too many players would choose to play for them when there are other opportunities available.
Citi Field is not a destination ballpark. Unlike teams within their own division, the Mets don't appear to be headed in the right direction. Possibly about to embark on a rebuild, why would a veteran want to sign there?
Fans can beg for Manny Machado or Bryce Harper until the pair suffer male pattern baldness. If they're anything like me, they're closer than they think.
More from Rising Apple
Getting away from my poor genetics and back to the Mets, neither young superstar is playing for this team next year. Why would they? Even if the team threw more money at them than anyone else (which they will not) I cannot imagine a world in which Machado, Harper, or any other superstar chooses to play for New York's second baseball team.
The problem facing the Mets is partly their own doing but also due to the competition. The Philadelphia Phillies are poised to spend big dollars in the offseason. It's practically a guarantee they walk away with at least one of the best free agents available.
Let's also not count out the New York Yankees. They should also remain in play to add any of the top dogs on the market.
In order to have any chance at attracting free agents this offseason, the Mets need to avoid a major rebuild. Without Jacob deGrom on this team, they don't look like 2019 contenders. Big name free agents don't want to sign somewhere if there's no shot at winning.
There are rare exceptions. Only when there are limited offers will a notable free agent choose to sign for a team going nowhere. He may spin it that he likes the city or it's near his home. The truth is, free agents typically want to play for a team with championship promise.
They can lure players with the promise of playing in New York or sell the team to them by spending more than anyone else. Unless they can prove the team isn't in for another miserable year, players will look elsewhere.
Next: Rising Apple Interview with Bret Saberhagen
Want your voice heard? Join the Rising Apple team!
What do you think the Mets can do to best attract free agents?