Mets: Jarred Kelenic and other notable sixth overall draft picks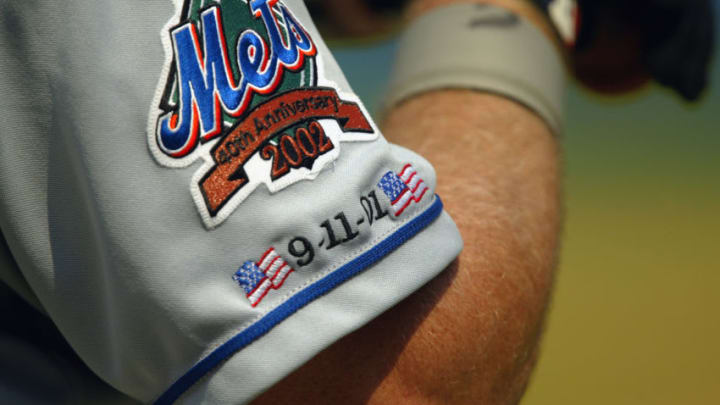 ATLANTA - SEPTEMBER 11: A member of the New York Mets wears a jersey commemorating the 40th anniversary of the club and the first anniversary of the terror attacks of 2001 during the first game of a MLB double-header against the Atlanta Braves on September 11, 2002 at Turner Field in Atlanta, Georgia. The Braves won 8-5. (Photo by Jamie Squire/Getty Images) /
The New York Mets took high school outfielder Jarred Kelenic sixth overall in the 2018 MLB Draft. Could he succeed like many others taken at number six?
On Monday June 4, 2018, the New York Mets selected outfielder Jarred Kelenic sixth overall in the MLB Draft. The high school outfielder is likely a half-decade away from seeing any meaningful MLB at-bats. That's if he ever gets there at all.
In the history of sixth overall picks, we've seen greatness and irrelevancy. The MLB Draft is as much a crapshoot as any. You'll be five years older before you even have the slightest idea of what Kelenic can do at the big league level. Even then the story will be far from over.
The good news with this uncertainty is how many amazing players have gone sixth overall in the past. Although the last to make the big leagues, Colin Moran was selected five years ago, there is a steady stream of talent before him ranging very the very productive to the serviceable.
Currently Playing
Young Chicago Cubs outfielder Albert Almora was taken sixth overall in 2012. A year prior, the Washington Nationals selected their star third baseman, Anthony Rendon.
Almora is still developing into what the Cubs hope becomes a reliable bat in the lineup. Meanwhile, Rendon is a perennial All-Star they hope to have for at least a few more seasons.
Another noteworthy sixth overall pick still playing is Zack Wheeler. Not selected by the Mets, Wheeler was a sixth overall pick by the San Francisco Giants in 2009. As you'll remember, it took a Carlos Beltran trade for the Mets to pick him up.
The two other active players worth mentioning are Andrew Miller (2006) and Zack Greinke (2002). Miller's 2016 postseason performance helped redefine the way bullpens are used today. As for Greinke, there was a time when he owned MLB hitters.
This is some pretty good company for Kelenic.
Not Active
Ricky Romero and Rocco Baldelli are two sixth overall picks I feel are worth mentioning. Romero had a few solid seasons on the mound and Baldelli was a good outfielder for several seasons. Neither lived up to expectations, but both put together careers they can be proud of.
More from Rising Apple
A far more notable name to add into the mix, Gary Sheffield was a sixth overall pick in 1986. If not for his reputation as a steroids user, Sheffield would have a Hall of Fame plaque right now.
Andy Van Slyke and a name Mets fans will remember, Kevin McReynolds, were also sixth overall selections. By no means superstars, each had very good careers.
In case you're wondering, the Mets have selected sixth overall twice before. The first was in 1975 when they took catcher Butch Benton. The high school catcher cracked the big leagues and finished his career with a -0.9 WAR in 51 games.
The other more recent selection at this spot occurred in 1997. This time they took a high school pitched named Geoff Goetz. He never made it past Double-A.
All-Time Greats
Greinke and Sheffield are far from the greatest players ever taken in this spot. In 1985 and 1992, two names every baseball fan knows were selected.
In 1986, Barry Bonds went to the Pittsburgh Pirates. The home run champion* has as many records and eye-popping statistics as one can imagine. Needless to say, he's the best ballplayer ever taken in this spot.
However, there is one other all-time great worth noting.
In 1992, the New York Yankees used this pick to select shortstop Derek Jeter. Mets fans know him well enough.
What will Kelenic become?
Next: Mets minor leaguers who could impact the 2019 season
Want your voice heard? Join the Rising Apple team!
The Mets will need to practice patience before we have any clue.