Mets: What will be Jose Reyes' role in 2018?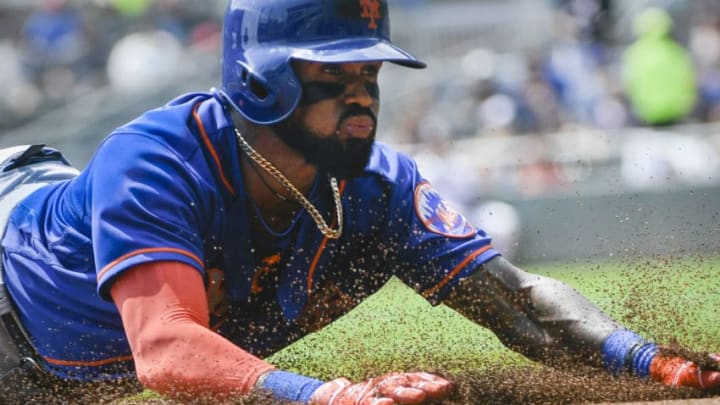 ATLANTA, GA - SEPTEMBER 17: Jose Reyes /
Upon hearing the news that Jose Reyes would be returning to Queens on a 1 year, $2 million dollar contract (with $500K incentives), many Mets fans couldn't believe that the familiar face would be coming back for what seems like his fortieth season as an Amazin'.
This is all Sandy Alderson could do to address the glaring hole at second base? Well, per Ken Rosenthal's Twitter, Jose will not fill the hole at second base but will be a utility type player coming off the bench. Therefore, with the implication that more help is on the way. This signing seems like a smart, relatively cheap move, that will make New York a deeper and more energetic club.
What he brings back to Queens
Jose's polished hitting will give NY a quality bat in key pinch-hit situations, and a starter to sub in for other infielders. Reyes, a switch-hitter, and will likely be the Mets' best option to face a key righty late in the game. Wilmer Flores remains their best bet vs lefties. Jose's .289 career average vs righties in innings 7-9 is far higher than that of Wilmer Flores (.268) or Juan Lagares, (.261), two of the Mets' premier bats off the bench. Reyes can also get on base. Jose posted the third highest walk rate (8.9%)  of his whole career last year, despite down numbers overall. Assuming "La Melaza" can hit more like he has throughout his career, the plate discipline is a great source of encouragement for the veteran. Jose will likely come off the bench in clutch situations and relieve Asdrubal Cabrera or Amed Rosario for a day.
Jose makes a large impact defensively. Amed Rosario showed flashes of brilliance at shortstop last year, but his 6 errors in less than 50 games were a serious cause for concern. If Amed ever becomes too shaky at the position, Jose will be able to fill in and play his natural position until Rosario adjusts. And while it's a stretch, Reyes will also sub in at 3rd base or 2nd base occasionally.
Speed, the tool that has always made Jose so exciting, will be another way in which Reyes can help the Mets. The 34-year-old remarkably snagged 24 bases last year with a solid 80% success rate. Yet, the Mets still finished with just 57 SB in 2017, good for 27th in the league. When Jose plays in games next year along the ultra-speedy Amed Rosario, New York will have a serious duo of runners in the lineup. Reyes will also likely pinch run in key situations next year.
The verdict
The impact that Jose makes in the clubhouse cannot be overstated. Reyes is known to be a friend of all people and is a great veteran to have on a team to give advice to younger players. Specifically, Jose has been very helpful to fellow shortstop Amed Rosario. Rosario went to Instagram to voice his excitement about the acquisition. Jose Reyes will continue to have a real impact on Amed, as well as other young players, like Dominic Smith, Brandon Nimmo, and Michael Conforto. Reyes also has good relationships with past teammates David Wright and Yoenis Cespedes.
Next: Why the Mets should sign Eduardo Nunez
Although Mets fans might be tired of hearing Jose's name again and again on the PA at Citi Field, he will have a positive impact on this team as a utility player and brings the Mets one step closer to their goal of making the playoffs.