1 Mets player most likely to turn things around after a bad 2022 season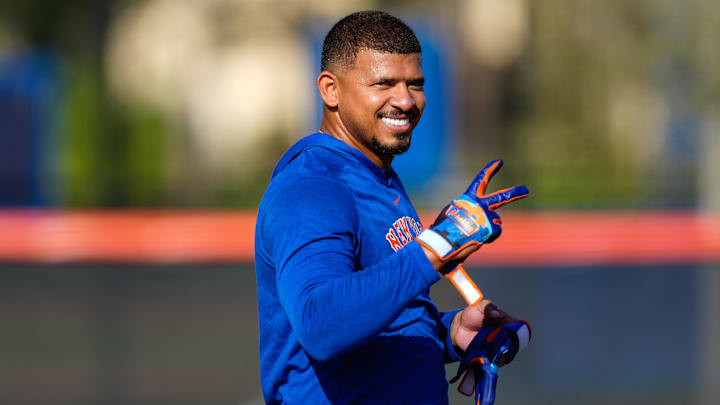 Feb 19, 2023; Port St. Lucie, FL, USA; New York Mets third baseman Eduardo Escobar (10) gestures / Rich Storry-USA TODAY Sports
The New York Mets have an All-Star payroll but not a fully stocked All-Star roster. Several players are coming off of a bad year. Catcher Omar Narvaez was a James McCann replica for the Milwaukee Brewers on offense. Darin Ruf ruined our September.
Among those players looking to have a better year in 2023, no one seems more likely to rebound than Eduardo Escobar. Maybe it's because he finished so strongly that has me taking the advice of Tug McGraw. I gotta believe things will be better.
Why Eduardo Escobar is the most likely Mets player to rebound this season
The end of the shift will help Escobar. And if you believe hitting the ball hard should have better results, Escobar is someone who hit the ball hard plenty in 2022.
A hard hit percentage of 37.7% actually set a new personal best for the Mets third baseman last year. Somehow it still resulted in a noticeable regression in his offensive game. He finished the season slashing .240/.295/.430 with 20 home runs and 69 RBI. 
Mets fans will remember Escobar finishing strong. In 30 regular season games in September and October, Escobar batted .321/.385/.596. He hit 8 of his home runs and drove in 25. He caught on fire down the stretch after returning from the IL in August.
Escobar wasn't infinitely better against lefties than he was against righties last year. Only the power difference stood out. He batted .231/.294/.387 against righties with a .259/.299/.519 slash line against southpaws. With Brett Baty, at some point, as an option to start regularly at third base when the team faces a righty, Escobar could be a candidate to sit a little extra. Mixing him in as the DH should be another option.
A year prior to signing with the Mets, Escobar was an All-Star third baseman with the Arizona Diamondbacks. The big difference between what he did with them and the Mets is how many home runs he was able to hit. His .430 slugging percentage last season in New York was his worst in any full season since 2016. Although unlikely to match the 35 home runs in 699 plate appearances from 2019 pace, the shortened dimensions in right field at Citi Field can aid in a small number of extra trots around the bases.
How Escobar responds to the pressure of his job being in jeopardy early on will tell us a little more of what to expect. In his career, Escobar has been almost equal in the first half as he has been in the second half: a .749 OPS to begin the year and a .750 OPS after the All-Star Break. While last year was very different, his career trends should give us an answer of what to expect rather quickly.