5 early realistic Mets starting left fielder options for next year ranked
Who starts in left field for the Mets next season?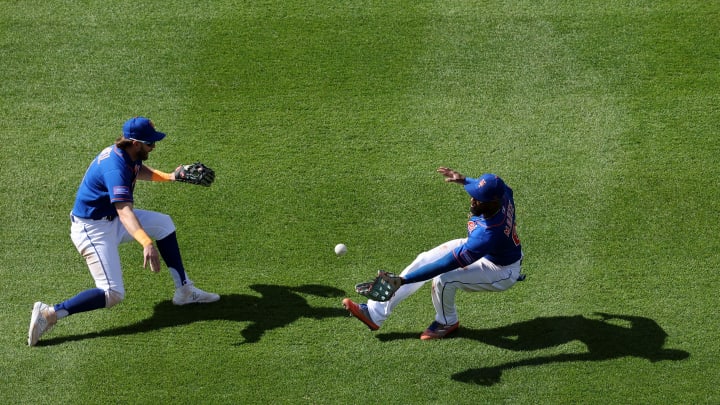 May 1, 2023; New York City, New York, USA; New York Mets right fielder Starling Marte (6) catches a / Brad Penner-USA TODAY Sports
3) NY Mets starting left fielder candidate: Jeff McNeil
Another one of those internal options, Jeff McNeil moving to left field on a more permanent basis is something to consider. It's not glamorous, but if it means the team has found some faith in Ronny Mauricio at second base, maybe we can accept having such a light-hitting player at a traditionally power-driven spot. After all, Mauricio could help make up for the absence of pop from McNeil's bat. We just need McNeil to challenge for a batting title to restore some balance.
Regardless of what the Mets decide to do in left field, McNeil will be in the mix for some starts. His defensive versatility is a weapon that must be used. For better but mostly worse reasons, it allowed the team to carry a DH-only player like Daniel Vogelbach on the roster all season.
McNeil can play anywhere. He remains the club's best second base option, however, if they're going to use Mauricio as a regular in the lineup, handing him the infield spot and moving McNeil to left makes more sense.
Having McNeil in left field does come with an asterisk. It probably means duties will be shared there. Perhaps even with a guy like Profar or Baty.