5 early realistic Mets starting left fielder options for next year ranked
Who starts in left field for the Mets next season?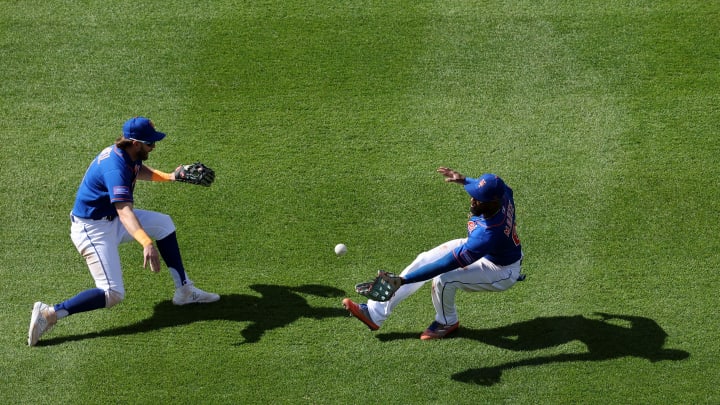 May 1, 2023; New York City, New York, USA; New York Mets right fielder Starling Marte (6) catches a / Brad Penner-USA TODAY Sports
4) NY Mets starting left fielder candidate: Brett Baty
Brett Baty moving from third base to left field is a reasonable expectation except for one thing: the Mets haven't committed to the change. They gave him every opportunity to win the third base job this year. Long slumps at the plate and some questionable defense led to a demotion and a whole lot of questions about exactly where he fits into the team's future plans. He's definitely in there, right? A move to left field seems like the next step to take if they want to look at ways to keep Baty around.
Baty has played left field in the minor leagues. When it looked like the team was going to sign Carlos Correa last offseason, a switch to the outfield seemed inevitable. The Mets stuck with him at the hot corner. So far, it hasn't worked as well as they had hoped.
It would come as a bit of a shock to see the Mets actually move forward with Baty as their planned starting left fielder next year. He'd need to win the job in spring training. By that point, even less thrilling yet more proven options like Profar would likely be unavailable.
Mets fans should still believe Baty has something to offer. Will it be as the team's left fielder? The organization hasn't pointed firmly in that direction just yet.