New York Mets fans need this musical Edwin Diaz bobblehead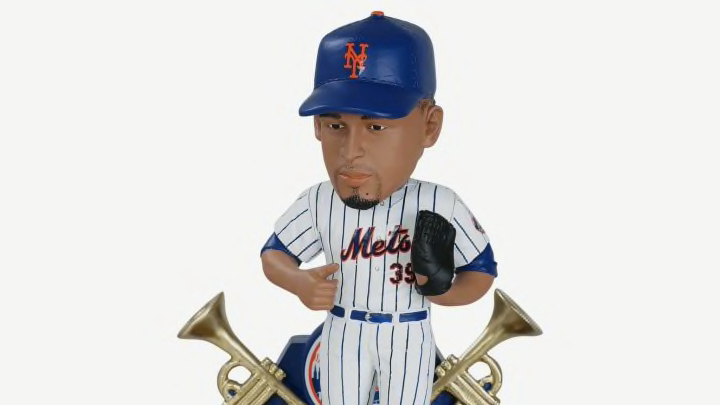 FOCO /
Cue the trumpets! New York Mets fans are going to love this new Edwin Diaz bobblehead from FOCO - which plays the closer's entrance music!
When New York Mets fans hear "Narco" by Timmy Trumpet, they know the game is over. That's because Edwin Diaz is about to take the mound to close out the game.
Diaz's ERA is 1.52 through 53.1 innings. He's picked up 29 saves and struck out 101 batters in those innings, earning an All-Star nod and debuting an amazing entrance.
FOCO took that entrance and turned it into a musical bobblehead. Check it out below.
FOCO /
From FOCO: In Queens, when the trumpets blare, that means "opposing hitters beware!" This Edwin Diaz New York Mets Cue the Trumpets Entrance Music Bobblehead plays Diaz's iconic entrance music, so we hope you're ready to crank the volume and conduct your very own shutdown symphony.
These will begin shipping in January - so there's a bit of a wait. But you can't rush perfection.
You can pre-order yours exclusively at FOCO $75. Below, you can find additional details.
Portrays Diaz wearing his gameday uniform in a jogging action pose, ready to shut down the competition
Button on top of base plays clip of Diaz's entrance song, "Narco" by Blasterjaxx and Timmy Trumpet to make your collection feel like a dramatic ninth inning at Citi Field
Thematic bullpen backdrop with team logo displays and trumpet accents to bring some sweet, sweet music
Wordmark team logo display on top of base, in case there were any doubts where your allegiances lie
Sheet music accents on sides of base that will look great in your collection
Field-textured top of base
Front name display so everyone knows who the face of your franchise is
Handcrafted
Hand painted
Don't wait. Check out FOCO today for this Edwin Diaz bobblehead.
This post contains affiliate links, where we may receive a percentage of any sale made from the links on this page. Prices and availability are accurate as of the time of publication.