NY Mets: 5 best moments from an entertaining 2021 season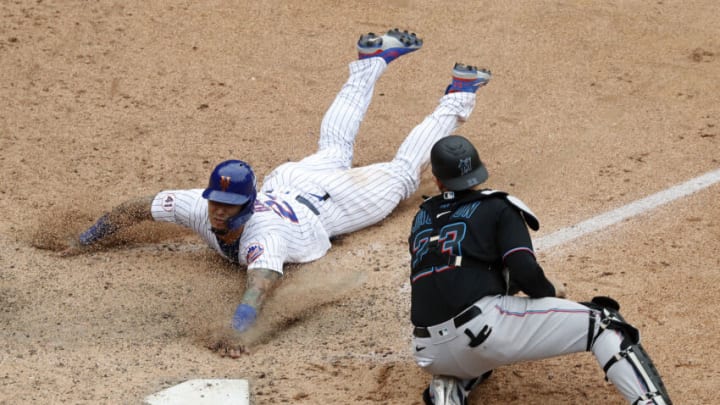 NEW YORK, NEW YORK - AUGUST 31: Javier Baez #23 of the New York Mets slides home with the game winning run in the ninth inning against Alex Jackson #23 of the Miami Marlins at Citi Field on August 31, 2021 in New York City. This is a continuation of the April 11 game which was suspended due to inclement weather. (Photo by Jim McIsaac/Getty Images) /
NEW YORK, NEW YORK – AUGUST 31: Javier Baez #23 of the New York Mets celebrates after scoring the game winning run in the ninth inning against the Miami Marlins with teammates Jonathan Villar #1 and Francisco Lindor #12 at Citi Field on August 31, 2021 in New York City. This is a continuation of the April 11 game which was suspended due to inclement weather. (Photo by Jim McIsaac/Getty Images) /
Put a bow on it. The 2021 New York Mets season is finished.
The season didn't go quite as planned. The first season under Steve Cohen was, if nothing else, entertaining. There were doses of controversy and some notable quotables along the way. However angry you got this year, we can all agree there were some memorable moments—some good and some bad.
Thanks for stopping by. Dry away your tears today and join us for a look back at the five best moments of the season.
5) NY Mets top moment: Reader's choice!
Full discretion: I couldn't pick five moments from this Mets season worth landing on this list. Isn't that sad?
Don't get me wrong. There were a lot of candidates. I even asked fellow Rising Apple writers for some of their favorite choices. After digging deep into my heart, I couldn't justify putting any of them up on this list because of other circumstances.
A few of those candidates include the return of the black jerseys, the Mets' win against the Miami Marlins in the aftermath of the thumbs-down fiasco, and Kevin Pillar's clutch home run versus the San Francisco Giants.
There's a problem with these moments. They all took place as the team was falling apart. None quite measure up to these other wonderful moments from the Mets season.
For good measure, we can add the Hall of Fame induction of Edgardo Alfonzo, Ron Darling, and Jon Matlack to the mix. While we're at it, why not Jerry Koosman's jersey retirement?
I'll leave the fifth option up to you to decide. I'll handle the rest.