NY Mets: Luis Rojas' reliance on data has cost his team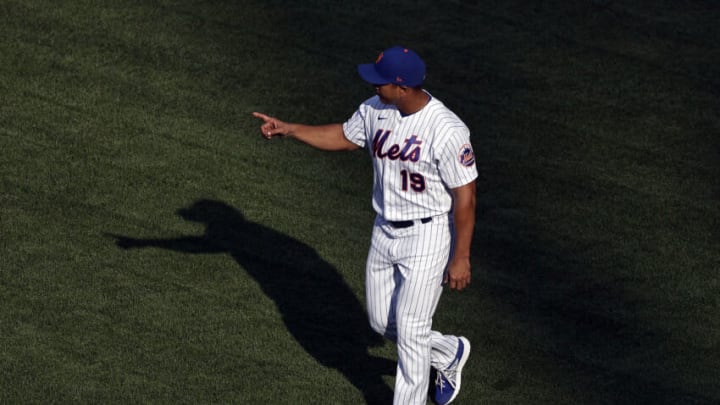 NEW YORK, NY - AUGUST 11: Luis Rojas #19 of the New York Mets signals for a pitching change during the fifth inning against the Washington Nationals at Citi Field on August 11, 2021 in New York City. This is a continuation of August 10 game which was suspended due to inclement weather. (Photo by Adam Hunger/Getty Images) /
The New York Mets have not had the season that many fans expected. Once the Mets traded for Francisco Lindor and Carlos Carrasco, expectations were that the team would compete with the Atlanta Braves for the division. However, it is now mid-September, and the Mets' hopes for contending are essentially over. Instead of being on top of the division, they are stuck in third place and under .500.
As a result, the Mets are one of the most disappointing teams in baseball, which means that a house cleaning may happen once the season is over. Although it is true that the team has suffered an insane amount of injuries that didn't help the cause, that excuse is without merit. Baseball is a results-oriented business, and teams are expected to overcome injuries. Unlike in basketball, where one player means significantly more owing to the fact of only having five men on the court at once, baseball relies on every player on the roster contributing.
A further examination on the Mets season shows that despite the poor offense and the injuries, the team could have a better record than what they have, perhaps even enough to be in first place in their division. But they are not, and a part of the reason why they are not is because of Luis Rojas.
Mets manager Luis Rojas is trusting data over his personal observations, and his unwillingness to make game-time decisions with his gut instinct has cost his team important games.
Luis Rojas entered a tough situation from the start: He was a holdover from the Brodie Van Wagenen and pre-Steve Cohen era, and therefore, he serves as a bridge between the old and new ownership. He was also not the team's first choice for manager; he got the job after Carlos Beltran was implicated as the ringleader in the Houston Astros sign-stealing saga.
However, there is one recurring mistake that Rojas has made throughout the season, which is that he has allowed analytics to dictate how he has managed the pitching staff. Particularly, he is yanking his pitchers too early when they are pitching well, and that has led to some disastrous results.
One game against the San Francisco Giants on August 25th, in particular, was disheartening because the decision Rojas made in this game was nonsensical. In the game, Mets pitcher Taijuan Walker was pitching a two-hitter through six innings, with his only blemish allowing Giants third baseman Kris Bryant to hit a solo home run off him. In the seventh inning of that game, Walker saw two men reach base, one of them not being his fault because Jonathan Villar botched fielding a sharp ground ball. Walker had only thrown 74 pitches to that point, and he was a ground ball away from getting two outs.
It did not matter. Rojas pulled Walker from the game despite how solid he looked in his start and inserted Aaron Loup to face the left-handed hitter, which was Giants infielder Brandon Crawford. Analytics dictate that left-handed pitchers generally perform well against left-handed hitters. However, Rojas's decision to trust analytics instead of his starting pitcher resulted in Loup surrendering a two-run double to Crawford, and the Giants took a 3-2 lead as a result, which ended up being the final score of the game. In this case, Rojas thought too much about the situation and ignored what was going on in the game. He trusted mathematics instead of his personal observations.
Rojas certainly is not the only manager who is guilty of treating mathematics and analytics with an undeserved sense of reverence. But he is one of the only managers who has cost his team many games this season by doing so.
Want your voice heard? Join the Rising Apple team!
Rojas may have been given a raw deal, but his strict adherence to analytics has resulted in him mismanaging a pitching staff. As a result, the Mets are below .500 and barring a miracle will not play in the postseason. Therefore, Rojas has a solid chance of being the first domino to fall once the Mets season concludes.