NY Mets bullpen has remained unbroken in a year with little offense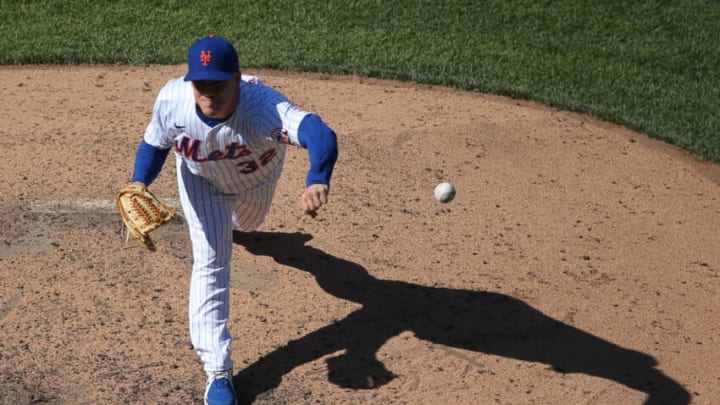 May 27, 2021; New York City, New York, USA; New York Mets relief pitcher Aaron Loup (32) pitches against the Colorado Rockies during the fifth inning at Citi Field. Mandatory Credit: Brad Penner-USA TODAY Sports /
The New York Mets are a team that is broken. Injuries have robbed them of delivering a strong, consistent performance all year, and the majority of the key contributors have woefully underperformed. The front office also has received its fair share of criticism.
Like a failed state, the Mets have not seen stability in a long time. Players were routinely carted from Triple-A Syracuse to the big league roster, or going on or coming off the IL. The rotating carousel of players has made it difficult for the Mets to string together a consistent rhythm on the field and at the plate, but it does not excuse the fact that a team with so many experienced players is falling flat on its face.
This year, the Mets kryptonite has been the offense, which is surprising. After coming off of a strong offensive season in 2020 and acquiring Francisco Lindor, James McCann, Jonathan Villar, Kevin Pillar, and Javier Baez (at the deadline), the Mets were expected to have a top ten offense. Instead, they are 29th in runs scored (462), 26th in home runs (129), and 25th in OPS (.690).
The Mets uninspiring offense has been so bad that the team's bullpen, which has been surprisingly decent all season, cannot help them close out games.
In another surprising twist to the Mets season, the usual culprit for the disappointing year after year is actually performing adequately this season. I am, of course, talking about the Mets bullpen.
There are three players in particular that are worthy of praise. First, the Mets front office, despite the criticism, deserves credit for the bullpen acquisitions they made last offseason. Former Rays reliever Aaron Loup has been fantastic all season. He has given up only five runs in 41 ⅓ innings this season, which is good for a 1.09 ERA. He has the second-lowest WHIP (0.895) of his career, and one of the highest strikeout rates (9.8) of his career.
Mets relievers Drew Smith and Seth Lugo also deserve recognition. Despite missing time on the IL, both relievers have turned in solid performances. Smith has a career-best 2.40 ERA and has solidified his spot in the Mets bullpen for the foreseeable future. Lugo, who had an ugly 2020 campaign, has bounced back in a big way. Apart from giving up a few too many walks, Lugo has compiled an ERA below his career average and is striking out hitters similarly to his 2019 season clip.
The Mets, as a team, have combined for a 3.78 ERA, good for 10th in the major leagues. The nine teams that are in front of them are currently in the playoffs (with the San Diego Padres being the only team in the top ten that is currently tied for a Wild Card spot). So how can a team that has gotten solid pitching, especially out of the bullpen, be so lackluster?
Want your voice heard? Join the Rising Apple team!
As owner Steve Cohen noted in his criticism, it starts and ends with a putrid offense that is simply unacceptable for a team with larger aspirations.