NY Mets: Marcus Stroman has a bad case of the run support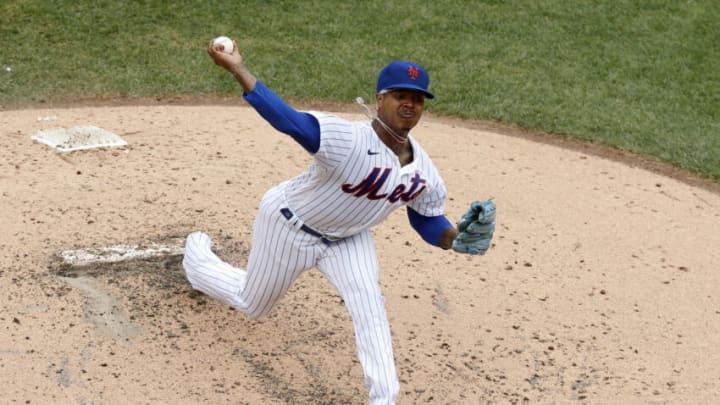 NEW YORK, NEW YORK - AUGUST 01: Marcus Stroman #0 of the New York Mets in action against the Cincinnati Reds at Citi Field on August 01, 2021 in New York City. The Reds defeated the Mets 7-1. (Photo by Jim McIsaac/Getty Images) /
The New York Mets have had an offense problem all season long. At the beginning of the season, their ineptitude at the plate could be explained away by the rash of injuries that plagued the team over the first few months. However, once most of the regulars returned (outside of Francisco Lindor), the offensive bats rarely came around. Many players are still mired in year-long slumps (Michael Conforto) and nearly all of them are not hitting as well as they did in 2020.
Although the past series in Washington was encouraging from an offensive standpoint, the fact remains that the Mets have not lived up to their full potential offensively at any point this year. They are 28th in runs scored, 25th in slugging percentage, and 21st in batting average. Their lack of offense has had a particularly frustrating negative effect on the starting pitching, which has been very good this year.
At the beginning of the season, Jacob deGrom was most affected by this, as he had to hit in his own runs in several of his starts. However, Mets pitcher Marcus Stroman has also been hurt by the team's lack of offense, which is a shame because he is turning in one of the best seasons of his career.
The New York Mets have not taken advantage of Stroman's brilliance all year, and it is costing them essential victories.
Marcus Stroman's record is an indicator that he has been the victim of poor run support. Despite having a stellar 2.78 ERA, Stroman is 8-11 in 23 starts. In those 23 starts, the Mets have only managed to score 72 runs, which is barely more than three runs a game. Even by the Mets offensive standards, that is remarkably low.
In his last start against Washington, Stroman didn't receive a ton of run support. Although four runs is certainly an improvement, it still was a small enough total to put pressure on Stroman to perform at a high level. Stroman may be pitching well, but it is also important to keep in mind that he is a career 3.63 ERA pitcher. It would not be a surprise if Stroman begins to regress more towards the mean.
Recently, Stroman has had a couple bad starts, and as a result, his ERA has increased since the All-Star Break. In his last three starts, he has pitched 16 innings and has given up seven earned runs, 16 hits, and four walks. Considering also that the Mets schedule is going to get harder as August progresses, the Amazins are going to need to provide Stroman with more than three runs to ensure that when he is not on the top of his game, the team still has a chance to win.
Want your voice heard? Join the Rising Apple team!
As a result of the horrible Mets offense, the team is now in a three-way race for the division title that no one is running away with. For the Mets to win the division, they can no longer waste Stroman's excellent outings. With deGrom on the IL, Carlos Carrasco still getting his rhythm back, and Taijuan Walker coming back down to earth in an ugly way, the Mets are now thin when it comes to starting pitchers who can be counted on to win games. Stroman continues to be the one steady starter in the team's rotation, and it would behoove them for their bats to click when he is on the mound.