NY Mets: SNY previews what a Jose Berrios trade to Queens might look like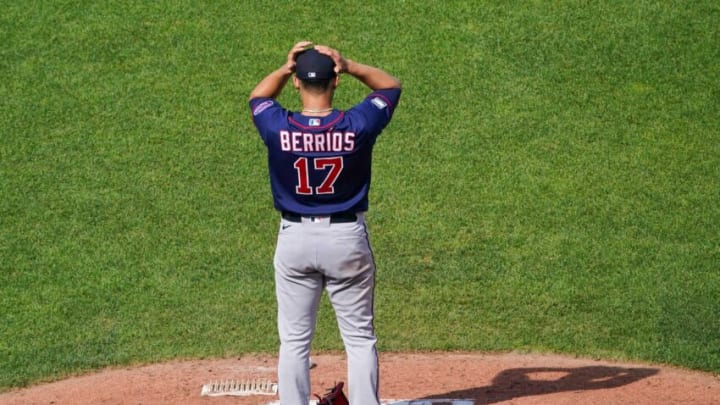 Jun 5, 2021; Kansas City, Missouri, USA; Minnesota Twins starting pitcher Jose Berrios (17) pauses on the mound before pitching during the game against the Kansas City Royals at Kauffman Stadium. Mandatory Credit: Denny Medley-USA TODAY Sports /
How much will it cost the New York Mets to land Jose Berrios in a trade this summer? If whoever came up with this trade idea at SNY was running the show, the price would be a lot!
I think all Mets fans do realize Berrios won't come from the Minnesota Twins cheaply. An exceptional pitcher who still has father time on his side, the produced deal from SNY includes three big names.
In the trade, the Mets pick up Berrios in exchange for Ronny Mauricio (1), J.T. Ginn (6), and Junior Santos (11). This is a deal between these clubs rivaling the old Johan Santana trade made many years ago. While Berrios isn't Santana, it's definitely close to the price the Mets would realistically have to pay.
Why this trade between the Mets and Twins works for Minnesota
It's easy to see why the Twins benefit from this move. They reload for the future! It's what we all assume losing teams plan to do at the trade deadline. The Twins are in a precarious situation. Built to win this year, things haven't gone their way.
What especially hurts them is how old many of their better and highly-priced players are. Nelson Cruz won't be around forever. Josh Donaldson is getting up there in age, too.
Even though the Twins have young talent on the roster, they don't seem to be fully loaded to come back year after year and contend.
Why this trade between the Mets and Twins works for New York
The Mets get a reliable starter to join an aching rotation. They can control him beyond this year without the magical powers of hypnotism—he's under contract.
The presence of Berrios would put them in a future predicament. It essentially guarantees Marcus Stroman or Noah Syndergaard walks after this season. Chances are, even if they didn't land Berrios, there was a strong possibility of this happening anyway.
Final verdict on this trade
It's a huge overpay for the Mets. Mauricio for Berrios, I can accept. I have a hard time figuring out where Mauricio's future with the team even lies. Jeff McNeil at second base, Brett Baty at third base, Francisco Lindor at shortstop, and any number of outfielders beyond the infield dirt plus Pete Crow-Armstrong in the future.
Once we start adding other prospects to the deal, I begin to hesitate. Ginn remains a little bit of a wild card. Still in the infancy of his professional career, he's a guy I'd only like to trade if he's the headliner. With Mauricio in this proposed deal from SNY, he's first mate, not the captain.
As for Santos, I get it. He's a nice prospect yet unproven and expendable. There's no telling where his ceiling lies. Paired with Mauricio or Ginn, I might pull the trigger.
More often than not, the team landing the big league player wins any kind of trade deadline deal like this. But you have to be intelligent about it.
Want your voice heard? Join the Rising Apple team!
For a year and a half of Berrios' services, I'm not so sure I make any overpayment for him. I don't believe the Mets are one young excellent arm away from winning it all. If this becomes the case, ask me again.