NY Mets World Series teams ranked: Who was truly great and who got lucky?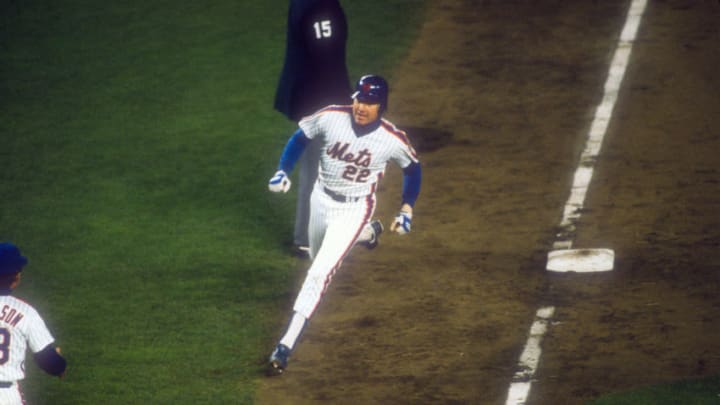 NEW YORK - OCTOBER 27: Infielder Ray Knight #22 of the New York Mets trots around the bases after hitting a home run against the Boston Red Sox during Game 7 of the 1986 World Series October 27, 1986 at Shea Stadium in the Queens borough of New York City. The Mets won the Series 4 games to 3. (Photo by Focus on Sport/Getty Images) /
Scenes from the final game of the 1969 World Series between the NY Mets and the Baltimore Orioles. October 16, 1969World Series Ny Final Game Oct16 1969 21 /
2) 1969 Mets
Finally, a championship team! The 1969 Mets did the impossible. They won the whole darn thing in a decade full of losing seasons.
The team swept the Atlanta Braves in the NLCS then won against the Baltimore Orioles 4-1 in the World Series. An underdog through much of the year, this Mets team was exactly that: a team.
The offense was far from dynamic yet they always seemed to find a way to score just enough runs to win. Cleon Jones hit .340 for them while Tommie Agee led the team in home runs (26) and RBI (76). Those two were the lone men on the roster to score more than 50 runs.
Truly a team built on starting pitching, this club had a lot of depth on the mound both in the rotation and bullpen. Tom Seaver had one of his greatest seasons, going 25-7 with a 2.21 ERA. Jerry Koosman was awesome, too. He was 17-9 with a 2.28 ERA.
I don't think I need to go through every single number to make the point that this 100-win team was a great one. This was a team that you would never guess on paper had what it took to go as far as they did. A few lucky bounces, great managing, and top-tier pitching helped make them the second-best World Series team in Mets history.
Home
/
New York Mets All-Time Lists