NY Mets World Series teams ranked: Who was truly great and who got lucky?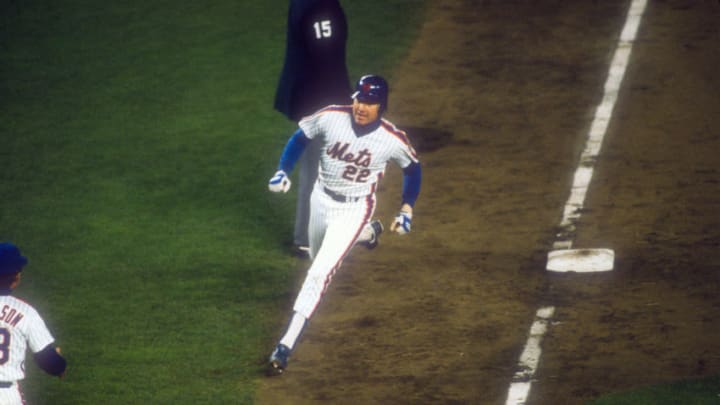 NEW YORK - OCTOBER 27: Infielder Ray Knight #22 of the New York Mets trots around the bases after hitting a home run against the Boston Red Sox during Game 7 of the 1986 World Series October 27, 1986 at Shea Stadium in the Queens borough of New York City. The Mets won the Series 4 games to 3. (Photo by Focus on Sport/Getty Images) /
OAKLAND, CA – OCTOBER 1973: John Milner #28 of the New York Mets slides into third base against the Oakland Athletics during the World Series in October 1973 at The Oakland-Alameda County Coliseum in Oakland, California. The Athletics won the series 4-3. (Photo by Focus on Sport/Getty Images) /
The New York Mets have sent five teams to the World Series as of 2021. It's not a bad number. Fans surely hoped for more.
The team has won a pair of championships and seen three instances where they were the first-place loser. Among those five teams to make it to the World Series, which ones got lucky and which were truly great?
We'll start with the former.
5) 1973 Mets
The National League East was competitive with no one but each other in 1973. At 82-79, the Mets were able to squeak by the 81-81 St. Louis Cardinals. That's right. Out of all of the teams in the division, only the Mets won more than they lost.
It was a year of injuries and stellar starting pitching. Cleon Jones was limited to 92 games and Jerry Grote played in 84.
Only John Milner, with 23, hit more than 20 home runs. Rusty Staub led the squad with 76 RBI and Felix Millan, thanks to his 185 hits, scored a team-best 82 runs. Looking over their offensive output, this was not a team to win it all.
Pitching came through for the team. Tom Seaver won the Cy Young but he had help from Jerry Koosman, Jon Matlack, and George Stone behind him. The bullpen, while not phenomenal, was usually reliable.
Although they are my "worst Mets team to appear in the World Series," this team did take down the Big Red Machine in the NLCS and came a victory away from winning the whole thing in the World Series versus the Oakland Athletics.
Baseball was a little different back then. This Mets team had a little extra grit and chemistry.
Home
/
New York Mets All-Time Lists