Mets Starting Lineup: Kevin Pillar has come to life with frequent starts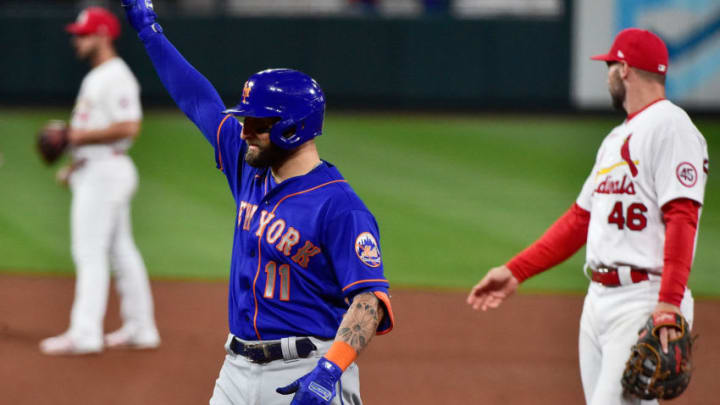 May 5, 2021; St. Louis, Missouri, USA; New York Mets center fielder Kevin Pillar (11) celebrates after hitting a one run single during the fifth inning against the St. Louis Cardinals in game two of a doubleheader at Busch Stadium. Mandatory Credit: Jeff Curry-USA TODAY Sports /
The first month of the 2021 season was rough on New York Mets outfielder Kevin Pillar. He ended April slashing .115/.179/.115. In May, with Brandon Nimmo suffering through some day-to-day injuries and now an IL stint, Pillar has gone "killar" and is beginning to give the team some much-needed offense.
Pillar goes into Friday's opener against the Arizona Diamondbacks riding a five-game hitting streak. I don't find it to be a coincidence that Pillar has started these five games all in a row, including a pair in the doubleheader against the St. Louis Cardinals.
Pillar's playing time was infrequent throughout April. Now in the everyday lineup, he has picked up his first home runs and RBI of the season. In the absence of one of the team's hottest hitters (Nimmo) the timing couldn't be better.
The Mets may need to find a way to work Kevin Pillar's bat into the lineup more regularly when Brandon Nimmo comes back
When the Mets signed Pillar this winter, the intention was to be the fourth outfielder and help with defense. He's an obvious upgrade in center field over Nimmo. Ask some people, a cantaloupe with an oven mitt strap to it is better. The same could be said about Dominic Smith in left field.
A right-handed hitter, Pillar was an opposite-sided hitter than the three regular outfielders. While never likely to start over Michael Conforto, Pillar was an early option to start over Smith or Nimmo versus lefties. We saw the perfect example of this on Opening Day when Pillar was in left field over Smith.
It comes as no surprise to see Pillar has a hit in all but two of his starts this season. As a pinch-hitter and any game he has played where he didn't start, Pillar has given the Mets goose eggs.
This leads me to question how the Mets can possibly get the most from Pillar this year. If he's going to be a zero when he doesn't start, what purpose does he serve them?
Maybe we need to look at Pillar a little differently. Perhaps we should accept his lackluster performance as a non-starter. In which case, Pillar is here for emergency situations—like Nimmo going on the IL. It's a big reason why the Mets signed him instead of someone less experienced. Pillar is proven and has continued to show us in 2021 that he can play regularly and contribute.
Want your voice heard? Join the Rising Apple team!
To sacrifice what the regulars can do in favor of Pillar, however, would be foolish. The exception might be if Nimmo slumps upon his return or Smith fails to dig himself out of this early hole he is in. Both sample sizes from Pillar and Smith might be small and uneven, but thus far, Pillar has looked like the better hitter. The more he plays, the more strongly we may feel about this position.