Mets: A role for minor league catcher Deivy Grullon on the big league team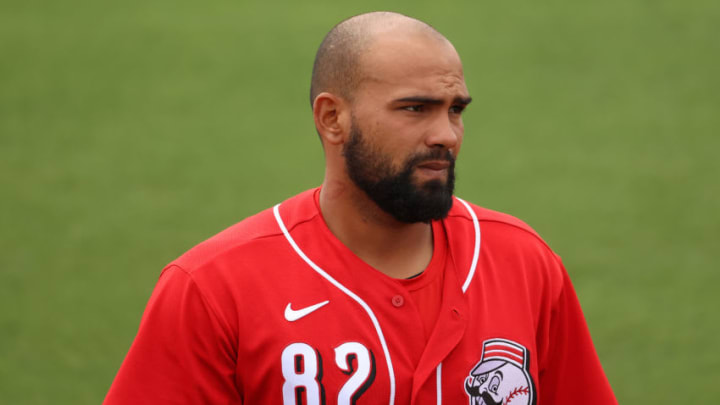 GLENDALE, ARIZONA - MARCH 25: Deivy Grullon #82 of the Cincinnati Reds looks on before the MLB spring training game against the Chicago White Sox at Camelback Ranch on March 25, 2021 in Glendale, Arizona. (Photo by Abbie Parr/Getty Images) /
A quiet move made by the New York Mets in recent days was the waiver claim of catcher Deivy Grullon. Well-traveled already in the last year alone, Grullon has been claimed on waivers multiple times. Since 2019, he has been a member of the Philadelphia Phillies, Boston Red Sox, Cincinnati Reds, and Tampa Bay Rays organizations before joining the Mets.
Grullon's minor league numbers do pop out. He hit 21 home runs in Double-A back in 2018 and add 21 more in 2019 at Triple-A. He did so with batting averages of .273 and .283 as well.
Unlikely to become a big part of the Mets, Grullon could serve a purpose with this ball club. It depends on two things.
The Mets could use Deivy Grullon if James McCann goes down with an injury
Tomas Nido is far from a fantastic hitter. Anyone who thinks otherwise hasn't been paying close enough attention. He remains with the Mets only for his defensive abilities.
Grullon is quite the opposite. Not so gifted defensively, he's the kind of player better served moving over to first base or any other position. However, we shouldn't expect the Mets to do anything drastic like try to change him. Grullon, for what he is, can serve a higher purpose.
Let's say James McCann goes down with a lengthy injury. Would the Mets really run Nido out there as the everyday catcher without some sort of battle?
The lineup would suffer immensely in the eight or nine hole—wherever Nido happens to hit. To have Grullon as insurance helps keep New York in a position to avoid having to write a black hole on the lineup card each game.
We saw in 2018 when Travis d'Arnaud and Kevin Plawecki went down how much the team suffered with Nido sharing time behind the plate.
Deivy Grullon could also take over for Tomas Nido completely
Another consideration involves Nido directly. What if he isn't the guy for the backup role? I know, as a backup catcher, expectations aren't immense. All he needs to do is give the starter a day or two of relief each week. He needs to play competent baseball, nothing more.
At times, I'm not so sure Nido can even do this. I get his defense is good and he can throw runners out. It's valuable to the Mets. But his offensive struggles are sometimes too much to bare.
Grullon only 25 and apparently has enough talent for several teams to bring him to town and see what he may be able to offer. Then again, enough organizations let him simply slip away.
I'm not confident we'll ever see Grullon actually do a thing with the big league Mets. The Syracuse version, however, might have a clean-up hitter on their hands.