Are Mets hitters remaining too patient at the plate this year?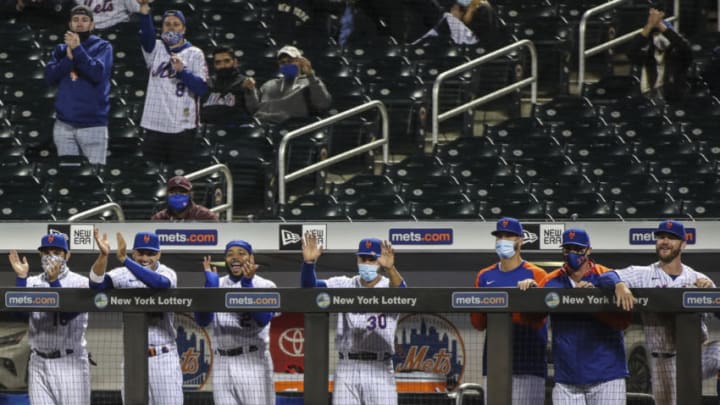 Apr 13, 2021; New York City, New York, USA; The New York Mets dugout reacts after pitcher Marcus Stroman draws a walk against the Philadelphia Phillies in the sixth inning at Citi Field. Mandatory Credit: Wendell Cruz-USA TODAY Sports /
I'm searching for a solution to the New York Mets season. It's early, I know. It's precisely why I want to find an answer. Things haven't gotten too out of hand just yet.
I looked over the numbers with runners in scoring position. They're ugly, but some teams are worse. There's no answer on the bench. There's no young stud offensive player the team could promote. A trade of significance won't happen for at least a few months and by then who knows where this club will be?
I'm not panicking. No, these palpitations are from too much caffeine spent staying up to see the Mets finish up a road trip in a different time zone.
The conclusion I have come to is there is no easy way to fix the Mets offense. But, may I add a suggestion?
The Mets remain one of the league's best teams at reaching base, but they don't know how to use it
The Mets rank 11th in batting average and 8th in OBP. This difference isn't huge. A .239 batting average and a .325 OBP is what we might expect from a power hitter that strikes out a lot but also draws his fair share of walks. I think of Adam Dunn later in his career although he was already hitting for a much worse average by then.
This isn't the issue with the Mets. They are built with some talented OBP men. Brandon Nimmo is one of the best in the game at reaching base. Michael Conforto also contributes incredibly well in this department even when he's not hitting so well aka right now.
The Mets just got swept by a Chicago Cubs team with the league's WORST batting average. Now a .200 team with a .300 OBP, the Cubbies even managed to put a 16-spot up against the Mets. The Milwaukee Brewers and Seattle Mariners are also having difficulty hitting. Each with a .209 batting average, they lead their respective divisions as of Friday. Neither has an OBP above .300.
Somehow, even with a better batting average and OBP numbers than Milwaukee and Seattle, the Mets sit at .500—just like the lowly Cubs. Would things be different if, perhaps, the Mets were swinging a little more freely?
With runners in scoring position, the Mets are batting .186. Only the Cleveland Indians have been worse. However, they do own a .307 OBP. This is 26th in the league.
The real shocker comes from looking at their slugging percentage. Dead last, and by a wide margin, they possess a .248 slugging percentage in these situations. The New York Yankees have the second-worst at .282.
Gathering up all of these numbers, we see the Mets aren't hitting much with runners in scoring position (you knew that already) and when they do, it's more likely than not a single. They are drawing walks or getting hit by pitches to increase their OBPs. The translation hasn't been to runs.
It's difficult to judge where the Mets rank in some areas of team production because of the number of games they played. All of the early cancelations made them the obvious last-place finisher in statistics like runs scored—where they remain right now.
My final proposal
The only solution I see to this other than gathering up some buzzers, trash cans, and maybe a pair of binoculars is for a little more aggressiveness at the plate. Mets players seem to be waiting for the walk. Or in one international instance, leaning a little too far out over the plate hoping for a hit by pitch.
You can't change the approach a batter has at the plate overnight nor do I think the Mets should try to redirect their identity. What makes some players so successful is how fabulous their eyes are at knowing the strike zone. Should we really ask guys with patience to start hacking when they normally wouldn't?
James McCann, Michael Conforto, Francisco Lindor, Jeff McNeil, and Dominic Smith are all hitting .200 or below with runners in scoring position this year. It's a contagion ripping through the lineup. Lindor somehow still has a .412 OBP despite a .100 batting average in these opportunities.
Want your voice heard? Join the Rising Apple team!
So while my suggestion to get a little more aggressive may not work for everyone, maybe a few extra green lights are what he specifically needs.