Mets Monday Morning GM: Extend Brandon Nimmo or watch him get snatched up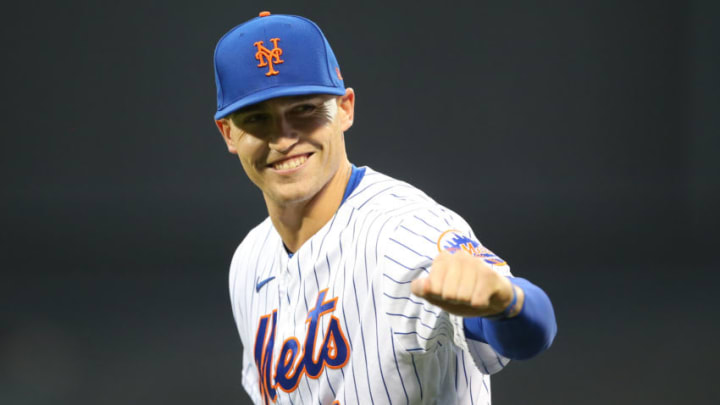 Apr 14, 2021; New York City, New York, USA; New York Mets center fielder Brandon Nimmo (9) acknowledges some fans before a game against the Philadelphia Phillies at Citi Field. Mandatory Credit: Brad Penner-USA TODAY Sports /
Brandon Nimmo is off to a fantastic start this season. After some uncertainty about his future with the New York Mets, he's locking himself in as a must-start even if his defense in center field is questionable at times.
Nimmo is doing all of the things he does best at an even better level. He's hitting, walking, and becoming one of the biggest pests in the National League. His grin belongs on a black flag the Mets should wave as they roll into a town. Fantastic in so many ways, Nimmo is entrenching himself in as an extension candidate.
The Mets will need to extend Brandon Nimmo or risk another team snatching him up
Modern analytics and whatnot favor Nimmo. Because so many of these statistics rely heavily on OBP, Nimmo looks like one of the top players in baseball. It can be misleading for some players. Reaching base isn't everything but it sure does matter. It's the ultimate goal of all hitters.
General managers in other cities are surely gushing at the idea of Nimmo becoming a free agent after the 2022 season. Put him in left field, bat him leadoff, and let him do his thing. Nimmo appears to be heading in the right direction with his career to become a stat geek's dream.
The urgency to extend Nimmo isn't there yet. With several others nearer to free agency, we shouldn't expect an overreaction from Steve Cohen and the rest of the front office to lock him up and spoil any fantasies other analytical departments may have at the moment.
Still, it's never too soon to start thinking about what the 2023 Mets payroll will look like.
How much is Brandon Nimmo worth on the open market?
Is $100 million too much for Nimmo? It probably is at this point. But what if Nimmo does the ridiculous thing and plays the next two seasons fully healthy? Back-to-back seasons with an OBP over .400 and a batting average anywhere at .280 or higher with his typically good power numbers should put him in good company to get paid well.
A $100 million contract, though, might be pushing it. It's way too big of a leap for a guy with only one season on his resume of 100+ games played.
Nimmo can secure himself a bigger paycheck by staying on the field this year and next. The numbers will come. He just needs to get his at-bats.
An extension with Nimmo could inch closer if the National League gets a DH permanently beginning next year. The Mets can then look at Pete Alonso as the man for that job, move Dominic Smith to first base, and shift Nimmo to left field. Center field would then become a spot to either plug in an outside source or possibly even use a guy on a rookie deal. Khalil Lee and, further into the future, Pete Crow-Armstrong should get their chance.
Want your voice heard? Join the Rising Apple team!
A hot start to a single season hardly moves the needle as to what a team should or shouldn't do. What the team does with Michael Conforto could have a lot to say about Nimmo's future with the team. They can't possibly let them both leave, can they?