Mets Starting Lineup: Play Luis Guillorme as much as possible while J.D. Davis is out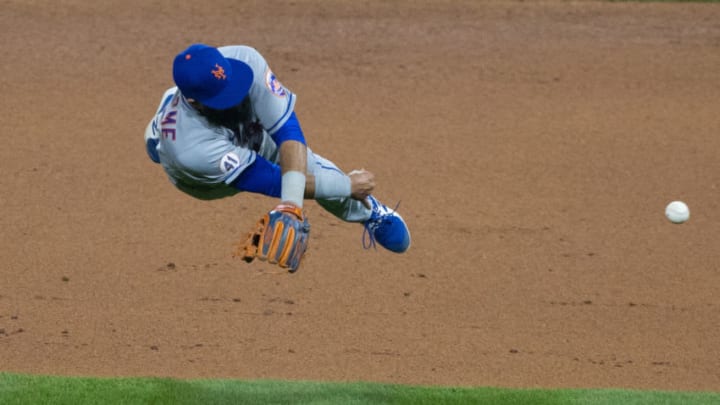 Apr 6, 2021; Philadelphia, Pennsylvania, USA; New York Mets shortstop Luis Guillorme (13) unsuccessfully attempts to throw out Philadelphia Phillies shortstop Didi Gregorius (not pictured) at first during the eighth inning at Citizens Bank Park. Mandatory Credit: Bill Streicher-USA TODAY Sports /
I've been very wrong about Luis Guillorme over the last few years. I doubted his abilities to grow as a player. In his early days with the New York Mets, he looked like nothing more than a light-hitting defensive replacement with very little potential other than the ability to grow some sweet face whiskers.
Guillorme has proven me wrong and changed my mind. Beginning with some growth as a hitter in 2019, his continued success in 2020 has convinced me that the Mets starting lineup needs him in it as much as possible.
Why the Mets need to play Luis Guillorme over Jonathan Villar
At the moment, at-bats will be easy for Guillorme to find. J.D. Davis is on the IL which has opened up a chance to start regularly at third base. He does have one serious competitor for the temporary job. Veteran Jonathan Villar joined the Mets this offseason for this exact purpose. Who will Luis Rojas choose for the bulk of these starts?
The opening at the hot corner is the perfect opportunity for Villar to raise his stock for next offseason and also help the Mets win some games. A much different player than Guillorme with a reliance on speed, he's a nice option to go with.
However, I want to think big picture. Guillorme is playing in his age 26 season while Villar is already 29 going on 30. Chances are, Villar is gone after this season. Guillorme will likely return or at least become fantastic trade bait for the Mets to shop. Either way, I'm curious to see what he can accomplish with at-bats on a regular basis.
Luis Guillorme fits in better for what the lackluster Mets offense needs right now
What the Mets offense needs now, are hits, sweet hits. Villar hasn't been a master batsman in his long career. An expected .260 hitter in an average season, he brings different tools to the field than Guillorme. He has more proven power and is definitely the guy I want running the bases over Guillorme.
Guillorme's talents fit in well for the long haul of a game. His usually superb defense for nine innings every night could prove invaluable to the Mets. Add in his higher likelihood of reaching base, Guillorme isn't so much a run-producer as much as he is a guy that can keep the inning moving along.
There's no wrong choice for who replaces Davis during his absence. A mix of Villar and Guillorme is perfectly fine, but if we're going to platoon them, Guillorme needs to get the starts versus righties.
I don't believe Guillorme is much more than a potential .300 hitter with a nice eye at the plate and a Gold Glove-caliber fielder. It's not the best description of an ideal third baseman. You do want a little bit of pop from a third baseman's bat.
Want your voice heard? Join the Rising Apple team!
Guillorme won't give the Mets that. He can, however, give them a little something else. After slashing .333/.426/.439 in his 68 trips to the plate last season, my interest is piqued. What are the limits Guillorme can reach with consistent playing time? Temporarily, we may get an idea.