Three Mets that will make fans want to rip out their hair in 2021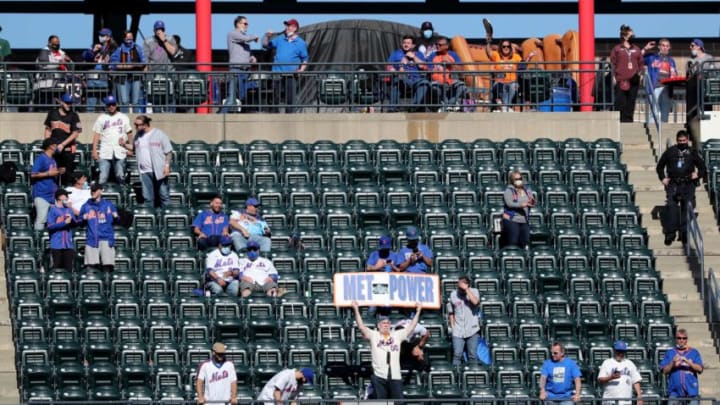 Only 20% of the seats were allowed to be occupied for Opening Day at Citi Field because of the COVID-19 pandemic. Those who were lucky enough to get a ticket and smart enough to stay to the end of the game got to witness one of the most exciting finishes in Mets Opening Day history. Here, fans are shown after Jeff McNeil hit a home-run in the ninth inning to tie the game. Thursday, April 8, 2021 Opening Day At Citi Field /
Apr 6, 2021; Philadelphia, Pennsylvania, USA; New York Mets relief pitcher Jeurys Familia (27) pitches during the ninth inning against the Philadelphia Phillies at Citizens Bank Park. Mandatory Credit: Bill Streicher-USA TODAY Sports /
A frustrated New York Mets fan? Where do you find one of those?
It's not hard to find a self-loathing, pessimistic, and irritated fan of the orange and blue. The franchise's history has provided plenty of opportunities to question why you had to pick this team as yours. Fortunately, there have been some good times to mask the ugly ones.
Still, the excitement of a year like the 2021 season still has its frustrations waiting to happen. In what will surely be a fun season for this ball club, frustrations await from these three members of the team.
Jeurys Familia is going to frustrate Mets fans more than any other pitcher this year
Representing the Mets bullpen as the most frustrating member is Jeurys Familia! While we could have gone with a few other candidates—shout out to Dellin Betances and the question mark beside his name—I think Familia becomes the most frustrating.
Why Familia? I think he sticks around all year long. As the highest-paid member of the bullpen, he'll have to carry around the thought that he's not earning his paycheck; as if that would bother anyone making millions.
Familia has been one of the most frustrating yet talented Mets in the last decade. Even at his most elite, Familia flirted with danger far too often for the taste fans want of a closer.
Often wild and imperfect on the mound, Familia delivers the perfect recipe to cause fans to aggressively pull the follicles from their head. It doesn't matter how used to him fans may get or how low expectations reach. Familia is someone fans aren't prepared to see have an awesome season.