Mets: Dominic Smith is a serious contender for a franchise record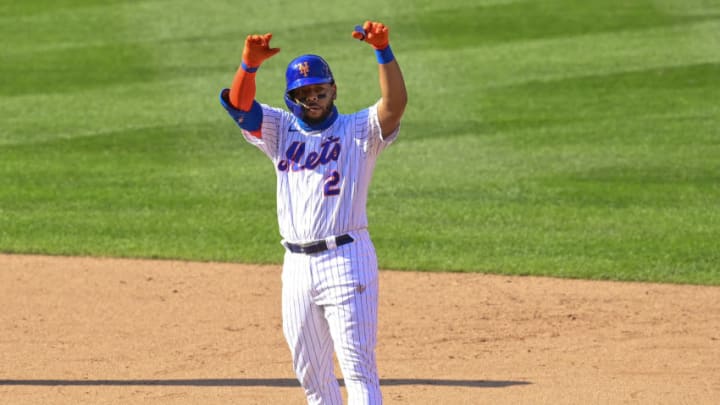 NEW YORK, NEW YORK - SEPTEMBER 06: Dominic Smith #2 of the New York Mets celebrates after hitting a double against the Philadelphia Phillies at Citi Field on September 06, 2020 in New York City. (Photo by Steven Ryan/Getty Images) /
Last season, Dominic Smith stepped up to the plate 199 times for the New York Mets. Of his 56 hits, 21 went for doubles.
In a full season, Smith was well on pace to obliterate the franchise's single-season record for two-base hits.
Set back in 1996, Bernard Gilkey had 44 doubles in one of the best offensive years any Mets player has ever had. Smith has to maintain last year's pace for a full season to get there. There's a good chance he can.
Why Dominic Smith could own the Mets doubles record this year
It doesn't take a math genius to calculate how many doubles Smith may have put together in a full year. At 400 plate appearances, he was already ripping doubles at a rate that would have put him in a two for second place with 42.
Mets legend David Wright had three seasons of 42 doubles in his career. Only a handful of others have ever reached the single-season milestone.
Smith is, in many ways, a similar hitter to Wright. Or at least this is what he is profiling at becoming. During his time in the minors, Smith was a guy who hit for average without much pop. Still in development, things could always change. In what should be his first actual full season in the big leagues in 2021, we will hopefully gain a better understanding of what he's capable of.
Smith's doubles rate last year exceeded what he did one season prior. In his breakout 2019 campaign which saw him receive 197 plate appearances, Smith ripped only 10 doubles. Although a good number, it doesn't compare to what he did in his most recent attempt at a Mets single-season record.
No strange to legging out doubles, Smith had 33 in High-A back in 2015 and 34 combined in Triple-A and majors back in 2017. Heftier in those days, the more athletic version of him has a chance to leg out an extra pair throughout the course of a season.
Most important in this quest is Smith's ability to stay healthy and put the bat on the ball. Without either of those skills, Gilkey will remain the single-season doubles champion.
This isn't the kind of record too many people pay attention to. They're doubles, not home runs. People who rip doubles don't get the same notoriety.
Want your voice heard? Join the Rising Apple team!
But if we have to take a 45+ doubles season from Smith, I don't think too many Mets fans will be complaining. It's what he does best.