Mets Roster Battle: David Peterson versus Joey Lucchesi for the fifth starter spot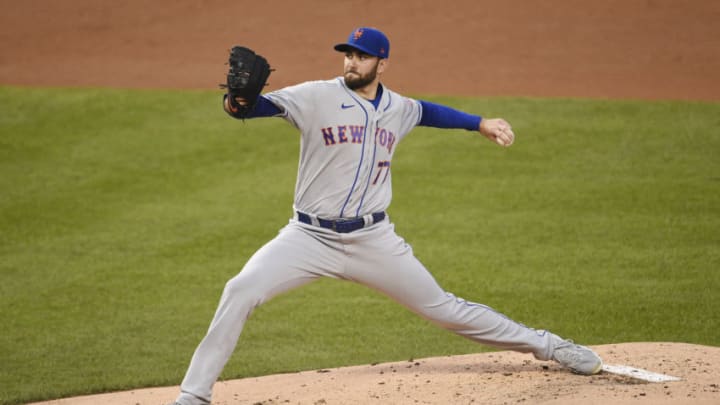 WASHINGTON, DC - SEPTEMBER 24: David Peterson #77 of the New York Mets pitches in the second inning against the Washington Nationals at Nationals Park on September 24, 2020 in Washington, DC. (Photo by Patrick McDermott/Getty Images) /
I didn't think it was possible. After a successful rookie year, David Peterson may not make the 2021 New York Mets Opening Day roster.
The lefty starter pitched well for the club in 2020, turning in the second-most consistent campaign behind only Jacob deGrom. It won't be a breeze for him to make the 2021 club out of camp. He'll need to battle this spring with lefty Joey Lucchesi, a man picked up from the San Diego Padres over the winter.
In perhaps the most important battle of spring training, these two lefty hurlers will take up arms—no pun intended—in their attempt to win the fifth starter role for this coming year.
The case for the Mets to name David Peterson their fifth starter
You don't have to tell loyal Mets fans how well Peterson performed last season. In 9 starts and a relief appearance, Peterson went 6-2 with a 3.44 ERA. Although unspectacular, I think Peterson surprised a lot of us.
The infamous sophomore slump is always a possibility but not really a consideration. I want to see more of Peterson. I want to see what he can do over the course of a full season. He hasn't done anything to lose a starting role with the Mets. Between the two, he must have an advantage.
The case for naming Peterson the fifth starter is pretty general. He pitched well in 2020. That's it. That's the argument.
His big league numbers are better than what Lucchesi accomplished during his time with the San Diego Padres. I understand why spring battles like this need to happen. With minor league options left and no experience in Triple-A, the Mets may plan to let Peterson grow further on the farm instead of with the 2021 team early on.
The case for the Mets to name Joey Lucchesi their fifth starter
A few years older with a lot more big league experience, Lucchesi comes to the Mets as a guy with some potential left in his future. He has been average at best in parts of three MLB seasons. This has me question why he could possibly be a favorite over Peterson.
Honestly, it's tough for me to make a serious case right now as to why Lucchesi should get the fifth starter role over Peterson. All things equal, I suppose his experience is the only area to point to. Lucchesi has thrown just a hair under 300 MLB innings. There should be less worry about him fizzling out.
The Mets added Lucchesi for a reason. I think they really like him and may favor choosing this southpaw.
Which pitcher will the Mets pick?
Whoever does become the fifth starter to open the year will eventually step aside and let Noah Syndergaard enter the rotation. With this in mind, we should see the Mets carefully assess the situation for the first few months of the season.
It's not a detrimental mistake if the Mets go with one of these pitchers out of the gate and he fails. The other, hopefully prepared in the minor leagues for a promotion, will get his chance.
The choice between these two is going to depend heavily on how they perform in spring training action. It will be more about numbers, too. How they look on the mound will also play a factor.
I do think we will see both of these lefties start games for the Mets in 2021. My gut tells me Lucchesi will be the first one to do it. If Peterson was the favorite, I wouldn't think a competition would even exist. And because the Mets know exactly where he can grow, a few weeks pitching in Triple-A could better prepare him for major league batters.
Want your voice heard? Join the Rising Apple team!
A final consideration—what if the Mets hold them both and make one the long-man out of the bullpen? With the possibility that we also see a few extra doubleheaders this year due to games getting canceled, I fully expect we see Peterson and Lucchesi start games pre-Thor return.