New York Mets News
Mets: Three Brandon Nimmo predictions for the 2021 season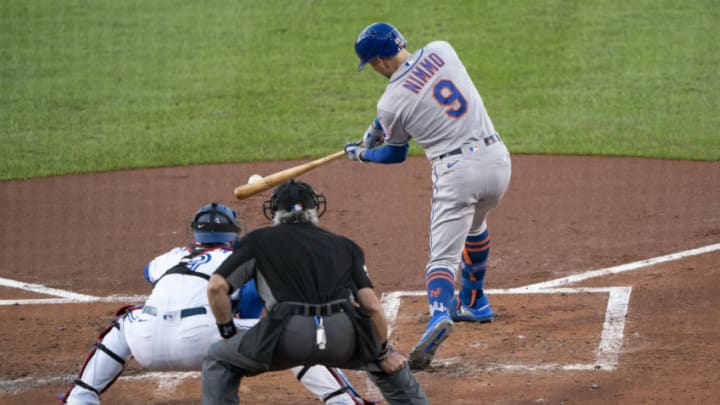 Sep 11, 2020; Buffalo, New York, USA; New York Mets center fielder Brandon Nimmo (9) hits a single during the third inning against the Toronto Blue Jays at Sahlen Field. Mandatory Credit: Gregory Fisher-USA TODAY Sports
NEW YORK, NY – AUGUST 26: Brandon Nimmo #9 of the New York Mets celebrates during the fifth inning after hitting a solo home run against the Miami Marlins at Citi Field on August 26, 2020 in the Flushing neighborhood of the Queens borough of New York City. (Photo by Adam Hunger/Getty Images)
Most New York Mets fans have a love affair with Brandon Nimmo. What's not to like? He's always smiling, always hustling, and always getting hit by baseballs. Even the critics love Nimmo with MLB Network's Shredder ranking him the fifth-best center fielder in the majors.
Sportswriters shed many words speaking of "elite" offensive, peak OBP, and a penchant for always winding up at first despite all other numbers not looking great.
So what is it about Nimmo that is both amazing and utterly frustrating? There are certain things he does so well and there are other things that leave you scratching your head.
One of those things is his unpredictability. What version of Nimmo are we going to get? Will he be healthy? Will he be productive? Can he fix some of his weaknesses?
Well, here's an attempt to answer some of those questions by making three predictions for Brandon Nimmo in 2021.
The Mets will have Brandon Nimmo as their center fielder on most days.
One of the hottest topics for the Mets during this offseason has been, "What are they going to do with center field"? The thing is, if you ask Nimmo, he'd probably say, "Hello, did you forget about me?"
The last few years have been a combination of players flirting with center field. Whether it was Yoenis Cespedes, Michael Conforto, and often injured Juan Lagares, the Mets haven't really been able to lock down a viable option since Angel Pagan.
Nimmo has played there for much of his career even though he profiles more as a left fielder. However, given his speed and athleticism, he's been the best option on the team for several years.
The thing is, until this became his job full time, no one had really been talking about his defense. It was always, "Well, he's better than [fill in the blank]." Unfortunately, 2020 saw Nimmo routinely take the wrong or tough routes to fly balls that should have been caught.
Baseball fans are enamored by diving catches but there are two reasons why this happens. 1. The player ranged so far and dove to complete an improbable catch. 2. The player isn't fast enough or able to get to the ball because they reacted slow and dive to bail themselves out.
Nimmo is reason two.
However, as of right now, the Mets will be going to battle with Brandon Nimmo as their center fielder on most days. Predictions indicate that they could still sign Jackie Bradley Jr. but at this point, it doesn't make sense. If they didn't sign George Springer, then Nimmo is the guy.
Plus, as this article was being written, the Mets signed Kevin Pillar which may throw a wrench in this prediction. However, the prediction is for "most days" and the Mets are at their best with Dom Smith in the lineup, which means if there's no DH, he's in LF with Nimmo in center. This all goes away if there's a DH, but it doesn't appear to be happening. It doesn't appear Bradley is coming either.
Plus, Pillar isn't the centerfielder he once was. Is he better than Nimmo? Yes, but not good enough to warrant a complete replacement of him unless Nimmo is on the trade block.
So for now, we can expect to see a lot of late-inning switches to left field with Kevin Pillar, Albert Almora, and maybe a guy like Mallex Smith moving into center. Pillar may also play exclusively against lefties which would make this an off-balanced platoon. For the most part, this is Nimmo's job to lose.