New York Mets starting rotation options are plentiful even without Trevor Bauer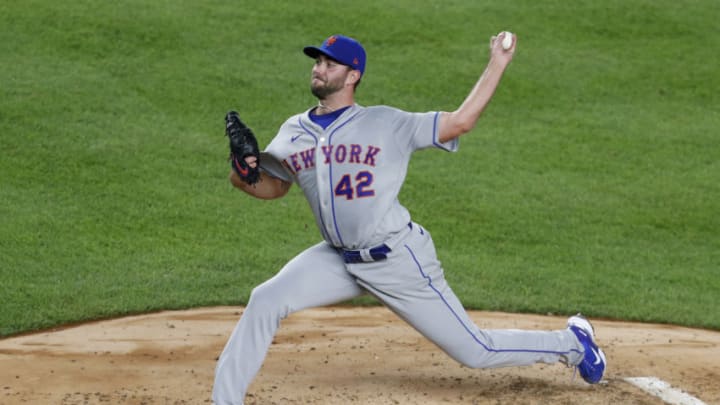 NEW YORK, NEW YORK - AUGUST 28: (NEW YORK DAILIES OUT) David Peterson #77 of the New York Mets in action against the New York Yankees during the second game of a doubleheader at Yankee Stadium on August 28, 2020 in New York City. The Mets defeated the Yankees 4-3. All players are wearing #42 in honor of Jackie Robinson Day. The day honoring Jackie Robinson, traditionally held on April 15, was rescheduled due to the COVID-19 pandemic. (Photo by Jim McIsaac/Getty Images) /
Aug 28, 2020; Bronx, New York, USA; New York Mets starting pitcher David Peterson (77) pitches against the New York Yankees during the second inning of the second game of a double header at Yankee Stadium. Mandatory Credit: Brad Penner-USA TODAY Sports /
Although the New York Mets missed out on Trevor Bauer, who signed with the Los Angeles Dodgers, the truth is that the team will enter the 2021 season with a starting rotation (provided they do not make any more upgrades or signings, which is unlikely) that is really good. Even with Noah Syndergaard out until the summer, the Mets are looking at a rotation headlined by Jacob deGrom, Marcus Stroman, and Carlos Carrasco.
deGrom, of course, is the ace of the staff, but Stroman and Carrasco are well above-average starting pitchers. Stroman is a ground-ball pitcher who made the All-Star Game in 2019 and finished that season with a 3.22 ERA. Carrasco, meanwhile, showed in 2020 that his recovery from leukemia did not impact his ability to perform well as he had one of his best seasons of his career. It is reasonable to expect that both of them should be solid contributors to the Mets in 2021.
What will be interesting to see unfold is what the Mets decide to do with the last two rotation spots to start the season. There are four pitchers currently on the roster who can make a case to get some starts early on in the season.
The first one is David Peterson, who should have the strongest case of the bunch to have a spot in the Mets rotation. Peterson emerged on the scene last season, becoming the only starter on the Mets outside of deGrom who was halfway respectable in 2020. Over the course of nine starts, Peterson compiled a 6-2 record with a 3.44 ERA over 49 ⅔ innings.
Mets pitcher David Peterson is the early favorite to earn a starting rotation spot in 2021.
Peterson profiles as a pitcher who does not have a signature pitch. His fastball is considered average, his change-up and slider are similarly effective, and his curveball, probably his weakest pitch, is not what gets hitters out. Peterson is not the type of pitcher who will rack up the strikeouts. However, Peterson has done a good job throughout his professional career so far at inducing high ground ball rates, thanks to the sinking nature of his fastball. At every level thus far, Peterson has recorded ground ball rates at over 50% on a consistent level. Because he cannot get away with blowing by hitters, Peterson has perfected his form and delivery, making it smooth, streamlined, and, most importantly, repeatable.
Another thing Peterson has going for him is his length. As a 6'6'' pitcher, Peterson has a predictably long stride, which enables him to get a nice full extension when delivering pitches.
If there is one blemish to Peterson's game, it is his walk ratio, which is well above-average. During the 2020 season, he allowed 24 walks compared to 40 strikeouts. For Peterson to secure his spot in the rotation, he is going to need to keep his walks down.
Prediction: Peterson will receive starts in the beginning of the season, which will determine whether he will remain in the rotation once Syndergaard returns.