NY Mets: Three options if Michael Conforto does not re-sign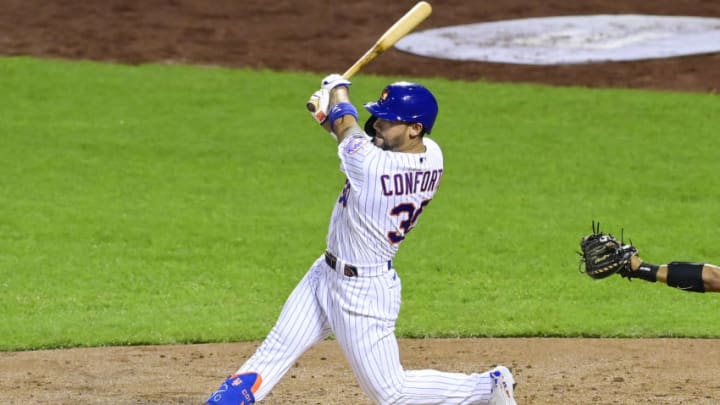 NEW YORK, NEW YORK - SEPTEMBER 08: Michael Conforto #30 of the New York Mets at bat against the Baltimore Orioles at Citi Field on September 08, 2020 in New York City. (Photo by Steven Ryan/Getty Images) /
CINCINNATI, OH – SEPTEMBER 14: Nick Castellanos #2 of the Cincinnati Reds bats against the Pittsburgh Pirates during game two of a doubleheader at Great American Ball Park on September 14, 2020 in Cincinnati, Ohio. (Photo by Jamie Sabau/Getty Images) /
Sign Nick Castellanos
Castellanos has a player option after 2021 so he would first have opt-out before hitting the market. Signing Castellanos may be a long shot but if he does get to free agency he is a very intriguing target for the Mets.
If he chooses to opt-in after this year, the 28-year-old Castellanos would remain in Cincinnati through at least 2023 (his contract also contains a mutual option for 2024), and earn $16,000,000 each year.
Given his current contract structure, it is reasonable to think that Castellanos would opt-out, especially if he performs well in 2021. A great 2021 season would likely earn Castellanos a lucrative long-term contract that would pay him for the rest of his prime years.
Castellanos actually could have also opted out after 2020 but performed poorly and wisely chose to stay put. The disappointing season saw Castellanos slash just .225/.298/.486 while playing in all 60 games in his first season with the Reds.
However, if he can regain the form that saw him hit .280/.330/.487 with 109 homers from 2015 to 2019 with the Tigers, and briefly the Cubs, Castellanos could become a very valuable addition.
If he can match that production in 2021, Castellanos would undoubtedly opt-out, making him likely the second-most attractive outfield free agent behind Conforto.
One big caveat: Castellanos historically has not been a good defensive player. Prior to 2018, Castellanos mostly played third base before transitioning to right field full-time. So far, neither defensive experiment has gone particularly well.
If the National League finally adopts the designated hitter, this will not be as big of an issue but for now, it is a serious concern if he were to patrol the spacious Citi Field outfield.
MLB writer Mike Petriello wrote an interesting piece in November 2019 highlighting evidence that Castellanos was involving into a competent defensive player.
As Petriello articulates, Castellanos' first full season as an outfielder went so poorly that the Tigers had considered transitioning him back to the infield.
However, the article goes on to analyze Castellanos from 2019 onward and details how he has improved from a poor defensive player to an average one.
The hope is that as Castellanos continues to gain experience in the outfield, he can become serviceable enough to be a serviceable defender.
If his bat returns to its pre-2020 status, Nick Castellanos would be an intriguing replacement should the Mets lose Conforto.