NY Mets: Three options if Michael Conforto does not re-sign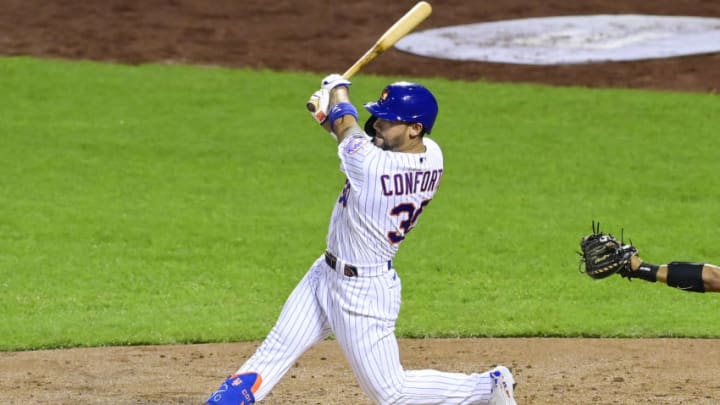 NEW YORK, NEW YORK - SEPTEMBER 08: Michael Conforto #30 of the New York Mets at bat against the Baltimore Orioles at Citi Field on September 08, 2020 in New York City. (Photo by Steven Ryan/Getty Images) /
NEW YORK, NEW YORK – SEPTEMBER 06: Michael Conforto #30 of the New York Mets fields his position against the Philadelphia Phillies at Citi Field on September 06, 2020 in New York City. (Photo by Steven Ryan/Getty Images) /
The New York Mets have had quite the rollercoaster of an off-season. The positives include the trade for All-Star shortstop Francisco Lindor and veteran starter Carlos Carrasco, solidifying catching defense with James McCann, and adding bullpen depth and Twitter entertainment with Trevor May.
The Mets did miss out on George Springer and chose not to pursue J.T. Realmuto, who re-signed with division rival Philadelphia.
The Mets appear to be the frontrunners to land Trevor Bauer, who represents the Mets last chance to land one of the "big" 2021 free agents.
Some may call it a disaster if the Mets strike out on all of the big-time hot stove names, which is of course not a logical sentiment.
But there may be another potential disaster lurking.
What does the future hold for Mets outfielder Michael Conforto?
Outfielder Michael Conforto is set to enter free agency after the upcoming season. Details of a potential extension have been scarce, though team president Sandy Alderson did recently state that he anticipates on having "serious" extension talks with Conforto's representatives.
On December 17, 2020, Alderson announced his intention to hold extension talks with Conforto, but provided little in substantive details:
""I expect that we'll have some serious conversations. I have no idea where it will go. You know, (Conforto's agent) Scott (Boras) has a reputation. I think Michael likes to play in New York. He's been a great player ever since we brought him up. And I hope he stays with us. But those talks are yet to come.""
Alderson references the notorious agent Scott Boras, who has developed a tough-nosed reputation in his dealings with general managers. Boras typically holds out for top offers and has a terrific track record of securing lucrative contracts for his clients.
Mets fans should have confidence that Alderson and acting general manager Zack Scott will be able to secure an extension with Conforto and Boras.
Still, there will be a very competitive market for Conforto's services if they can't lock him up before free agency begins and the Mets would be wise not let him hit the open market.
If Conforto does sign elsewhere, the Mets will have to evaluate potential replacements.
The bad news is that the upcoming free agent class of outfielders is not particularly impressive.
It will be difficult, if not impossible, to replace Conforto's production should he leave.
However, these options could help soften the blow of losing one of the more popular Mets in recent memory.