Mets Monday Morning GM: No George Springer, no problem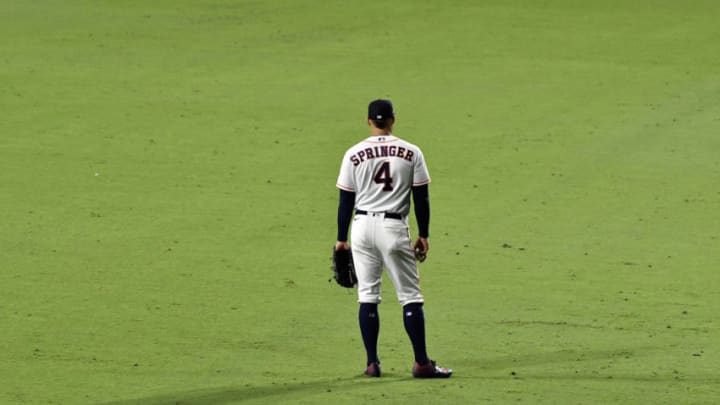 Oct 13, 2020; San Diego, California, USA; Houston Astros center fielder George Springer (4) against the Tampa Bay Rays during the seventh inning in game three of the 2020 ALCS at Petco Park. Mandatory Credit: Robert Hanashiro-USA TODAY Sports /
The New York Mets failed to outbid the Toronto Blue Jays for the services of center fielder George Springer. At six-years and $150 million, it was an incredibly great day in the Springer household. His children's children's children's lazy cousin may not have to work a day in his life.
While I think we all hoped Springer would land with the Mets, many have realized the effect this could have on future contracts Steve Cohen hands out. The club has four big-name players in the final year of their deal. Knowing Cohen's billions won't all go toward the team, we understand signing Springer may ultimately cost the team a chance to extending or re-signing a few other players.
The important thing to realize is that Cohen is the owner of this franchise. He's not the general manager, swinging for the fences knowing his time is limited. Cohen is in this for the rest of his life.
Mets did the right thing not signing George Springer
No Springer, no problem. The Mets have other center field options for the 2021 season and will probably end up with Jackie Bradley Jr. at the position. I think the stars have aligned for this to be the case even if it's not my favorite.
Springer felt like too perfect of a fit for the Mets. With all of the tools in his arsenal, he felt like a must for the Mets for many days this winter.
Things did change. When Francisco Lindor and Carlos Carrasco put on orange and blue, Springer suddenly became a luxury and not a necessity.
The same goes for Trevor Bauer and a few more of those flashy free agents we dreamed of seeing in the home dugout at Citi Field this upcoming season and beyond.
Cohen delivered on his promise to Mets fans
From the start, Cohen was pretty clear about one thing. He wasn't going to spend like a drunken sailor. The clichéd phrase about fiscal responsibility, Cohen has increased the Mets payroll to a more appropriate level without catching any ire from the other owners in the game.
Cohen is new to the exclusive club of MLB majority owners. Not ready to rattle any cages, he has Sandy Alderson by his side to make sure he doesn't get too trigger-happy at the ATM.
The Mets are a much better team right now than they were at the end of the 2020 season. They have a stronger rotation, more bullpen depth, and a scarier lineup.
Want your voice heard? Join the Rising Apple team!
Although this has not been the dream winter, it has been a good one. Who would have thought missing out on all of the top names would still feel so good?