New York Mets History
Mets: "Marvelous Marv" Throneberry perfectly represented the 1962 'Lovable Losers'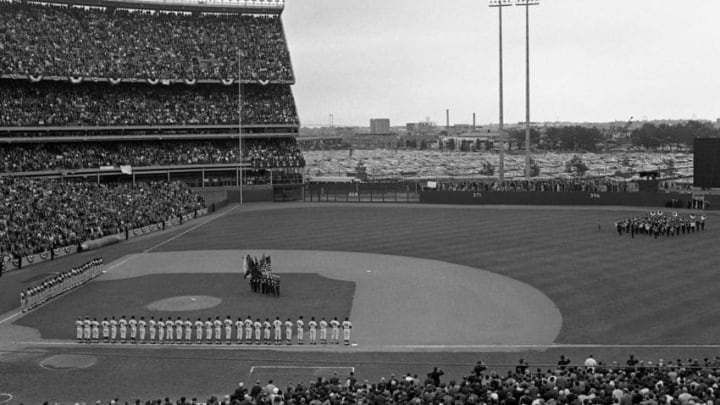 FLUSHING, NY - OCTOBER 14, 1969: General view of the stadium as the teams line up along the first and third base paths prior to Game 3 of the World Series on October 14, 1969 between the Baltimore Orioles and the New York Mets at Shea Stadium in New York, New York. (Photo by: Kidwiler Collection/Diamond Images/Getty Images)
The history of the New York Mets is more of a rollercoaster than the Coney Island staple, and Mets' Singe-A affiliate namesake, the Brooklyn Cyclone.
In between the team's five National League pennants and two World Series titles are infamous moments of ineptitude highlighted by many memorable figures, who are not necessarily in the history books for good reasons.
One of these players that best represents the "that's so Mets" mentality is "Marvelous Marv" Eugene Throneberry, whose initials spelled, of course, "MET."  Appropriately a member of the expansion, 120 game-losing Mets' season, Throneberry was an entertainer on the field, but more as a circus-like performer than a player.
The 1962 Mets and Marvelous Marv were the perfect pair
If you look at Throneberry's statistical body of work, he does not show off a particularly noteworthy line.  The back of his baseball card would simply display his mediocre .237 batting average and forgetful 53 career home runs.
But, one cannot fully appreciate the legend of "Marvelous Marv" without a breakdown of his several on-field theatrics.
A veteran who made his MLB debut in 1955 after a very productive minor league career, the Mets acquired Throneberry in May 1962.  Throneberry earned significant playing time at first base mostly due to the lackluster talent on the 1962 roster.
Throneberry's pure baseball skill may not have provided fans with much entertainment.  It was, rather, his unorthodox, unintentional, slapstick-like style of play that affectionally earned him the "Marvelous Marv" title with fans.
Fans even formed a 5,000-member fan club solely dedicated to Marv, as outlined by Janet Paskin in her book "Tales from the 1962 New York Mets Dugout: A Collection of the Greatest Stories from the Mets Inaugural Season."
Some of Throneberry's 1962 highlight reel included a scattering of game-winning hits, a three-error game, and a .981 fielding percentage, which, at the time, was the worst fielding percentage for a regular first baseman.
Sportswriters of the time told legendary stories that beautifully captured Throneberry's goofy character.
In one piece written in 1963 by New York Times writer Arthur Daley, Throneberry allegedly asked manager Casey Stengel why he did not get a birthday cake, as some other members of the team had received.  Stengel, who also managed Marv with the Yankees, replied, "We was afraid you'd drop it."
In another Marv-like incident, members of Throneberry's fan club, dubbed "VRAM" ("Marv" spelled backward), showed up to an August 1962 game clad in "VRAM" shirts cheering on their cult hero.
As Jimmy Breslin detailed in "Can't Anyone Here Play This Game?" the Mets actually were honoring Stan Musial that day, and Throneberry admitted that he was embarrassed that he stole attention away from Stan.
Marv's baserunning was also often must-watch television, as his less-than-stellar baseball acumen frequently resulted in dramatic and comedic outs.
His most memorable moment, a favorite among Mets historians, occurred in a game against the Cubs on June 7, 1962. In the first inning, Marv was called for obstruction at first base, allowing a Cubs' runner to return to first safely and botching a rundown in the process.
In the bottom half of the inning, Throneberry appeared to hit a two-run triple, but Cubs' first baseman Ernie Banks appealed, claiming Marv had missed first base.  The umpire agreed and ruled Throneberry out.
Stengel came out to argue, but, as the legend goes, the umpire told Stengel, "Don't bother, Casey, he missed second base too."
"Marvelous Marv" will always be an integral part of Mets lure, not particularly for his physical ability, but for his personification of the expansion Mets' overall lovable loser image.
While the 1962 season will live in infamy as the worst season in Major League history, Marv Throneberry assured fans that they would always be entertained, albeit for reasons he probably did not have in mind.
After he retired, Throneberry even appeared in a series of Miller Lite commercials.  Showing his good-hearted nature, Throneberry often poked fun of himself in these commercials, uttering lines like, "If I do for Lite what I did for baseball, I'm afraid their sales will go down."
The Mets have had their share of fan favorites throughout their existence, whose playing abilities maybe did not primarily contribute to their appeal.  Players like this that come to mind include Jason Phillips, Josh Satin, and of course Bartolo Colon.
Want your voice heard? Join the Rising Apple team!
However, it is "Marvelous Marv" will forever hold the distinction as the first cult hero in Mets history.