Mets: Three Jacob deGrom predictions for the 2021 season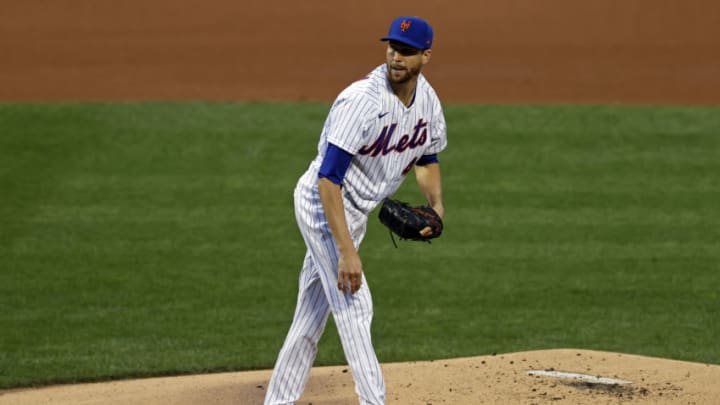 NEW YORK, NY - AUGUST 26: Jacob deGrom #48 of the New York Mets in action against the Miami Marlins during the first inning at Citi Field on August 26, 2020 in the Flushing neighborhood of the Queens borough of New York City. (Photo by Adam Hunger/Getty Images) /
Aug 28, 2018; Chicago, IL, USA; New York Mets starting pitcher Jacob DeGrom (48) pitches during the first inning against the Chicago Cubs at Wrigley Field. Mandatory Credit: Patrick Gorski-USA TODAY Sports /
Three predictions for what we will see from New York Mets pitcher Jacob deGrom in 2021.
The 2021 MLB season remains somewhat of a mystery given the current state of the world. Will we get 162 New York Mets games or will we settle for a bit less? Either way, one thing we do know, when Jacob deGrom pitches, he gives the team a chance to win.
From now until Opening Day—whenever that may end up being—the Rising Apple team is going to provide regular predictions for individual players.
Some of these predictions we'll put in permanent marker, etch in stone, and nail it shut before burying it in the ground. In October, you can dig it up and see how right we were. Or maybe enjoy a good laugh as to how much we missed the mark.
We begin our predictions with three for the ace of the club, deGrom.
A Cy Young runner-up
After back-to-back Cy Young wins in 2018 and 2019, deGrom settled for a third-place finish in 2020. I don't think too many people cried foul. Trevor Bauer and Yu Darvish both outpitched him statistically.
In 2021, I think deGrom climbs up one spot and is the runner-up for the Cy Young. Although I don't think he'll be hurt by owning two of those trophies already, I do believe voters tend to lean toward handing it over to a new name. If all things are equal, deGrom will not get votes over the other guy.
Finishing second in the Cy Young vote doesn't mean deGrom's season will be a disappointment. He can still have an excellent year even if the end result isn't some personal hardware added to his collection.
I have two more predictions for deGrom in 2021. Hopefully, they get a little more excited.