New York Mets News
Monster Mets trades we could see Jared Porter make now or in the future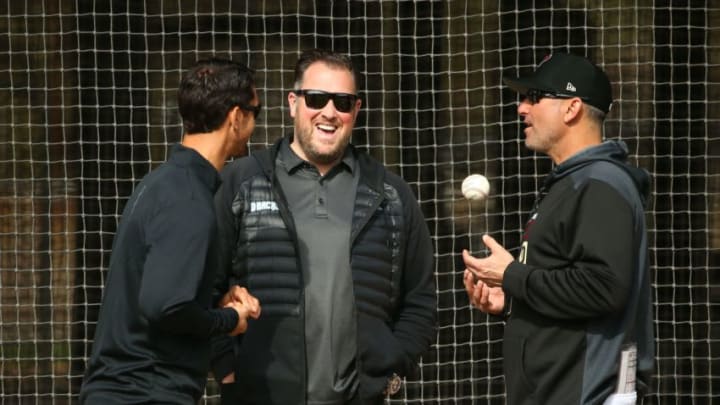 Arizona Diamondbacks GM Mike Hazen, Jared Porter senior VP & assistant GM and manager Torey Lovullo during the first day of spring training workouts on Feb. 13 at Salt River Fields in Scottsdale. Arizona Diamondbacks Spring Training
CLEVELAND, OHIO – SEPTEMBER 30: Jose Ramirez #11 of the Cleveland Indians hits an RBI double during the fifth inning of Game Two of the American League Wild Card Series against the New York Yankees at Progressive Field on September 30, 2020 in Cleveland, Ohio. (Photo by Jason Miller/Getty Images)
All of the available stars on the Mets radar, like Jose Ramirez or Shane Bieber
It's going to be tough over the next few years to not expect the Mets to at least look at trades for any available superstar player about to get paid a lot of money. The whole reason why Lindor, Story, and Snell are available right now is because their current teams either don't want to pay them or cannot afford it. This will not change while Porter is around. I would like to see him take advantage of at least one blockbuster deal.
Two names that immediately jump out to me are Jose Ramirez and Shane Bieber. The 2020 runner-up for the AL MVP and the unanimous AL Cy Young winner both play for the Indians whose modus operandi has been to not pay their players. I fully expect both to become available in trades within the next few seasons.
Ramirez is signed through 2023 with a high salary of $13 million in that final year. It's a very team-friendly deal yet one the Indians may want to move. Bieber has yet to even reach arbitration so his availability may need to wait a little longer if the Mets are looking to pounce on a star pitcher.
Fortunately, there are others out there, too. There's nothing in the rule book about small-market teams not being able to produce high-quality young stars. Surely, at least one other team in a bigger market will also undergo a rebuild and sell off its stars somewhere along the way.
Whenever things like this happen, it's important for Porter to communicate with Cohen about what his plans are. How much is the team willing to spend? Is winning now more important than possibly winning in the future with some homegrown talent?
Want your voice heard? Join the Rising Apple team!
Citi Field should be a place that hosts at least one World Series while Porter is the general manager. The decision to put them over the top might be a future trade like one of these.