Monster Mets trades we could see Jared Porter make now or in the future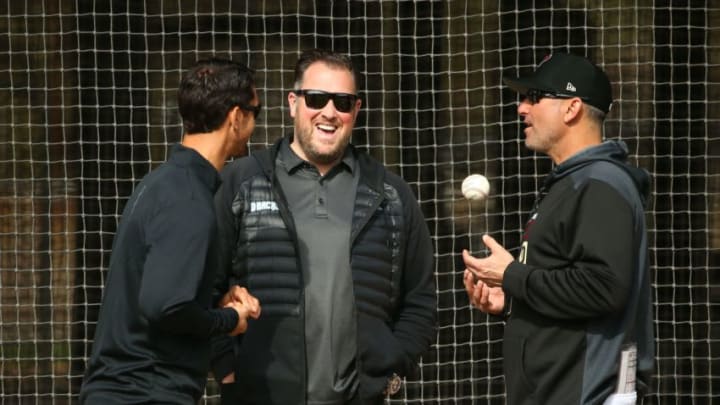 Arizona Diamondbacks GM Mike Hazen, Jared Porter senior VP & assistant GM and manager Torey Lovullo during the first day of spring training workouts on Feb. 13 at Salt River Fields in Scottsdale. Arizona Diamondbacks Spring Training /
Oct 21, 2020; Arlington, Texas, USA; Tampa Bay Rays starting pitcher Blake Snell (4) delivers a pitch in the 5th inning against the Los Angeles Dodgers in game two of the 2020 World Series at Globe Life Field. Mandatory Credit: Tim Heitman-USA TODAY Sports /
Mets go for broke and trade for Blake Snell
Another star player talked about in offseason rumors has been Blake Snell. The former AL Cy Young winner of the Tampa Bay Rays plays for a team with a notorious history of paying its players very little.
Although locked up through 2023 at a reasonable rate, an immediate financial crunch due to lost revenue in 2020 might force the Rays to move their star starter much sooner than they could have ever hoped.
Snell is far from the only starter we should see Porter inquire about. He just happens to be the only one available this winter via trade that feels like a realistic possibility for the Mets. In coming winters, others of his caliber should also appear on the rumor mill with the Mets logo beside it.
The tricky part about doing a deal with the Rays is they typically want young players back. Many times they have won those deals, too. So, unless Porter is completely confident Snell could help put the club over the top, he should proceed with caution.
Further into the future, we should expect to see more names on smaller markets emerge as potential high-level trade candidates. If there's one thing that hasn't changed in baseball over the years it's how the teams willing to pay high salaries tend to succeed more often than those that do not. The next big Mets starting pitcher acquired via trade might be a guy with a 5.00 ERA last year on a team you hardly know a thing about.
For now, it's Snell and everyone else we could look to see Porter attempt to acquire this winter.