Monster Mets trades we could see Jared Porter make now or in the future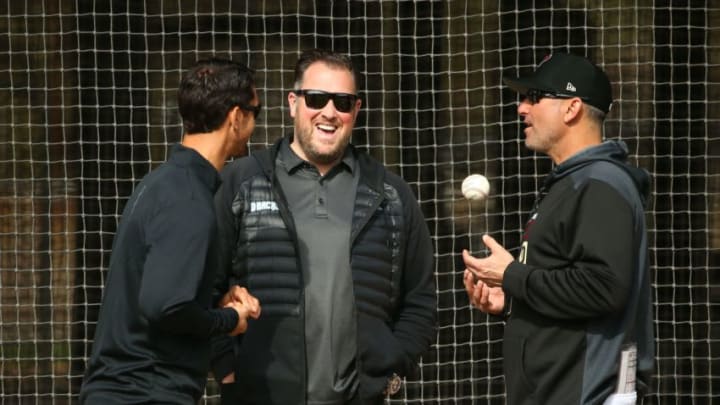 Arizona Diamondbacks GM Mike Hazen, Jared Porter senior VP & assistant GM and manager Torey Lovullo during the first day of spring training workouts on Feb. 13 at Salt River Fields in Scottsdale. Arizona Diamondbacks Spring Training /
Acquiring Trevor Story is just one of the monster trades New York Mets General Manager Jared Porter cane make during his team with the club.  (Photo by Justin Edmonds/Getty Images) /
During his tenure as New York Mets General Manager, Jared Porter has a chance to make some monster trades to help the club win a World Series.
After more than a month of searching for a replacement in the general manager's chair, the New York Mets have found the heir to Brodie Van Wagenen's deflated throne. Jared Porter is the man that will take over as the GM of the team for the foreseeable future.
Call me crazy, but hiring a general manager with lots of front office experience zero days working as an agent seems like a smart move to me.
In his quest to help Steve Cohen build a contender, Porter will look at the trade market. Free agency is a lot more about what the owner is willing to spend. Trades, meanwhile, feel more like some savvy talking and dealing.
Whether it be this winter or next, these are three trades we can look forward to seeing Porter at least attempt to pull off.
Mets upgrade at shortstop with Francisco Lindor or Trevor Story
Francisco Lindor has been one of the most talked-about trade candidates for the Mets this offseason. There's still plenty of time to get a deal done. With Porter now in place, it's time to get on the phone with the Cleveland Indians.
As an alternative, the Mets could also call up the Colorado Rockies and inquire about Trevor Story. Their star shortstop is also one of the hottest members of MLB's trade block this offseason. Plus, it's yet another dude named Trevor.
It feels like the Mets are going to make a huge jump at the shortstop position at some point during Porter's reign. Amed Rosario's time at the position feels like it is wallowing while the verdict has yet to come in on how good Andres Gimenez will actually be.
Nobody knows for sure who will play shortstop for the Mets over the next four seasons. However, I have a feeling until the club adds an All-Star to the roster, we'll speculate plenty about some trade opportunities.