Mets News: Jared Porter's press conference was refreshingly promising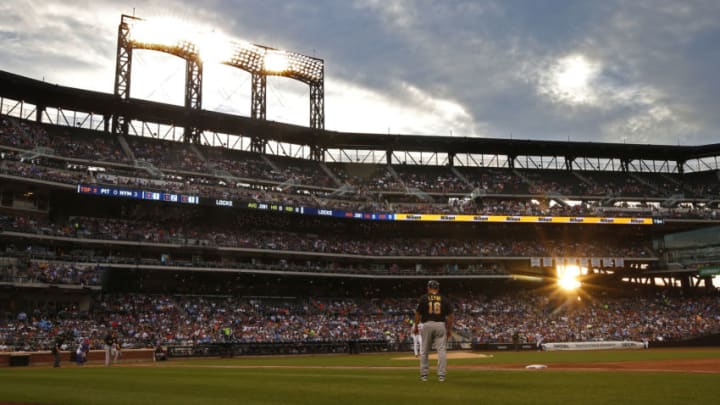 NEW YORK, NY - JUNE 15: Jeff Locke #49 of the Pittsburgh Pirates bats against Noah Syndergaard #34 of the New York Mets as the sun begins to set behind third base during a game at Citi Field on June 15, 2016 in the Flushing neighborhood of the Queens borough of New York City. The Mets defeated the Pirates 11-2. (Photo by Rich Schultz/Getty Images) /
New York Mets General Manager Jared Porter held his introductory press conference this week and it was refreshingly promising.
On the afternoon of Monday December 14, the New York Mets introduced their new general manager, Jared Porter, to media and fans alike. He spoke in tandem with Mets team president Sandy Alderson for about 50 minutes on Zoom, fielding questions from reporters spanning all walks of the New York media landscape.
Porter was asked repeatedly about his background with several championship teams, how he plans to restock the organization's depth, and how he plans to improve the Mets' organizational culture. He answered all questions in a straightforward, confident manner, clearly displaying his baseball acumen without coming across as arrogant.
In other words, this press conference was refreshingly dull for a Mets presser.
More from Rising Apple
Porter didn't dazzle with elaborate metaphors about how he plans to construct a championship roster. He didn't try overly hard to "sell" the Mets. No phrases resembling "come and get us" were uttered.
Instead, he spoke at length about his commitment to improving the organization's infrastructure, honing in on player development and analytics as two areas of particular importance.
Porter also mentioned the importance of keying in on international baseball markets, noting that to him (I'm paraphrasing here), "the scout signing a player for $10,000 in the Dominican Republic is just as important as the scout looking at a big-name free agent" and that he "wants to canvas all markets for good players."
He also mentioned several times that he is thrilled to take on the challenge of producing a World Series champion within Steve Cohen's "three to five" year timeline.
"I'm pumped to be a Met. . . hearing comments like [Steve's] motivates me. It shows strong commitment from ownership who wants to win. I want those expectations and want to provide that atmosphere for fans of NY,"  said Porter.
Porter noted that "[working in] professional sports brings on pressure in every form" and that it "excites and energizes" him. He spoke to developing "quality depth" instead of just "depth" in the Mets' upper minor league system, finishing his press conference by emphasizing that the Mets need to be prepared for all on- and off-field scenarios in 2021.
"There should be no excuses [for losing] if people are injured or not performing," said Porter.
Many reporters' questions focused on Porter's background in the front offices of the Boston Red Sox, Chicago Cubs, and his most recent employers, the Arizona Diamondbacks. In his opening remarks, Alderson emphasized that Porter has been well-respected and well-liked in the baseball industry throughout his entire career.
Alderson also occasionally interjected his signature wry humor into his answers.
"I think I look a little bit like Lester Holt with my glasses. Maybe he gets his at Walgreens too," noted a chuckling Alderson in response to a question from radio personality Ed Coleman.
While he answered questions and diligently responded "thank you" to every reporter that said "welcome to New York," Porter came across as a man who has worked in baseball for a long time and knows the ins and outs of the industry. He was not a deer in the headlights, nor was he bursting with energy. Nothing he said made me jump out of my chair with excitement, but I did find myself nodding in agreement at just about everything he said.
Porter was not hired to be the Mets' new cheerleader and the face of the franchise. He was hired to bring his championship pedigree to Queens and build a successful baseball team. He seems like a nice guy who knows what he's talking about, understands how hungry Mets fans are for success and is fully prepared for the job that lies ahead.
In other words, Porter pretty much seems like everything Mets fans could have hoped for in a GM hire.
It has been so long since I looked at the Mets' front office hires and thought, "I completely trust that ownership made the right decision." When the Mets hired Brodie Van Wagenen, who had absolutely zero front office experience, over Chaim Bloom back in 2018, I shook my head at the "same old Mets"-ness of it all. Now, I look at this hire with unfettered optimism.
Porter mentioned a couple of times that becoming the Mets' new GM was "a dream job" and that he became "singularly focused" on this opportunity when it became available. Frankly, it's about time that the Mets were a genuinely attractive destination for top baseball executives.
This press conference may not have had quite the buzz of Steve Cohen's introductory press conference a few weeks ago, but it conveyed that he and Alderson were able to lure a talented baseball executive, with years of front-office experience, to Queens. It also showed Mets fans that they (hopefully) need not fear that Porter will have the team's priorities out of whack.
"Player development" and "lengthening the starting rotation" were two priorities that Porter explicitly identified, which both align with Cohen's goal of building a sustainable franchise for years to come.
Luckily, Porter is well aware of the current strengths of the Mets roster as well.
"Jake deGrom is one of the best pitchers in baseball. . . Pete [Alonso] and Dom [Smith] are both great players, and Alonso is one of the best first basemen in baseball. It's a plus to have them both on the team," added Porter.
Overall, I came away from this press conference grinning at how Cohen and Alderson had hired such a respected baseball executive to be the new Mets GM. Porter is the kind of knowledgeable, accomplished baseball executive that Mets fans deserve to have in their team's front office. The Flushing Faithful deserve to read up about their new GM and not feel an impending sense of doom, but rather a swell of pride.
Want your voice heard? Join the Rising Apple team!
It remains to be seen what kind of GM Porter will be, but for right now, I believe in him. In his intro press conference, he said all the right things and started his Mets tenure off with no hiccups whatsoever. He appeared totally ready for the challenge ahead of him, and armed with the tools to succeed. Porter's hiring is another step in the right direction for this new Mets ownership, who continue to march this organization from the bottom to the top of the baseball world.