Mets Monday Morning GM: Is there a trade to rebuild the farm system?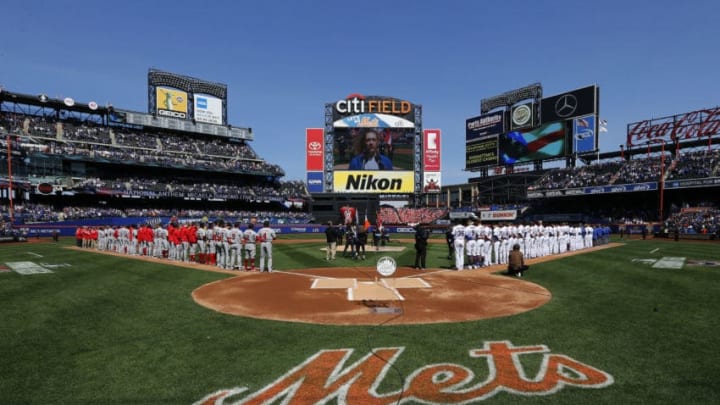 NEW YORK, NEW YORK - APRIL 04: (NEW YORK DAILIES OUT) A general view during the national anthem prior to the Opening Day game between the New York Mets and the Washington Nationals at Citi Field on April 04, 2019 in the Flushing neighborhood of the Queens borough of New York City. (Photo by Jim McIsaac/Getty Images) /
Rebuilding the farm system is one goal for the New York Mets. Are there any possible trades to make this winter to help speed up the process?
As part of their mission to look like a brand new organization, the New York Mets are hoping to grow the farm system in a positive way under Steve Cohen. This is no empty promise. This is a real goal of the new owner of the Mets and the front office he is building.
In order to build up a legitimate farm system, you need a few things. Good scouting. Willingness to pay international free agents. The best development and coaching in the minor leagues to turn 20th round draft picks into big leaguers.
All of these factors can help the Mets become an organization with a legitimate minor league system everyone would be jealous of. It takes a little patience and luck. If the Mets don't have enough of either, there is one other way.
When talking Major League Baseball trades, there are two main types. One would help both big league squads immediately. A team in need of a pitcher might trade a bat to another team for the arm and vice versa.
You already know those. You've been watching baseball for years. Before the Mets even make a trade, you know how it's going to work out.
Unfortunately, the Mets haven't been so lucky with these types of trades in recent years. Any time they have sold, the return hasn't grown into much. Many of their trade deadline deals have been money-saving moves that didn't bring any reward to the win column.
Things are a little bit different in the offseason. When a team trades a big leaguer for some minor league talent, it's not always just to shed salary. It's about building for the future; something the new-look Mets seem fond of doing.
However, the Mets are also trying to compete in 2021. They are expected to do the same in 2022. Then again in 2023 and every year thereafter.
That's a long time to wait for some highly-touted prospects to develop. What if they wanted to speed up the process a little bit? Is there a trade to be made?
Playing Mets GM
The Mets are going to field a competitive team in 2021. We already know this. Cohen didn't buy the franchise to narrowly miss the playoffs. He's a different breed and seemingly prepared to do whatever it takes to build a winner.
Most important of all, one of those goals is to create a sustained winner. This comes from the minor leagues.
I have little doubt the Mets will draft better and improve their minor league system under Cohen. To find a top prospect now via trade, they might find it a little more challenging.
Many of the top Mets trade candidates are guys that could be viewed as surplus big leaguers. In whatever order you want to put them in, J.D. Davis, Brandon Nimmo, Amed Rosario, and Dominic Smith are all expendable to a degree. I'm not saying the Mets should trade a single one of them. However, they have alternative options to these four and might be able to bring back some talented youth.
Davis and Nimmo appear to be guys more likely to get added into a trade along with some minor leaguers. Using Francisco Lindor as the control, they're just the start of a potential trade.
Rosario and Smith are a little different. They have youth on their side. Either one might be able to bring the Mets the top prospect(s) they are looking for.
We've talked a lot about trades on Rising Apple this offseason and nobody has really thought about the idea of trading a big leaguer for a minor league player. That's just not where the Mets are right now. Hypothetically, they could do both.
If the Mets were to swing a deal for Lindor or any other shortstop upgrade, Rosario suddenly becomes a lot more expendable. One option is to trade him for pitching. Alternatively, the Mets could flip him for some talent on the minor league level.
This may not be the most practical thing to do. Rosario is still young. The chance of landing a player that performs better in the big leagues than him is slim. The Mets are almost better off changing their perception of him from everyday shortstop to developing prospect with experience.
The Mets may find themselves in a spot to trade veterans for minor league talent sooner than many of us would like. This would probably only happen if they end up at a future trade deadline without a prayer at making the playoffs. At that point, we could see the Mets do one of their fire sales we became all too familiar with in recent seasons.
Nobody is ready to give up on this team whatsoever nor should they. The minor league system, while an important aspect of the franchise, may need to grow slowly under Cohen. The damage done by the last regime can be turned into a positive. Marcus Stroman is back and maybe Edwin Diaz's 2019 season was a fluke.
Want your voice heard? Join the Rising Apple team!
Young talent is great to have. More importantly, the Mets have the major league talent to compete. This should be their ultimate focus even at the slight expense of ranking a little lower on those lists of the "top minor league systems."