Mets: Priority free agents to sign with no more Robinson Cano dough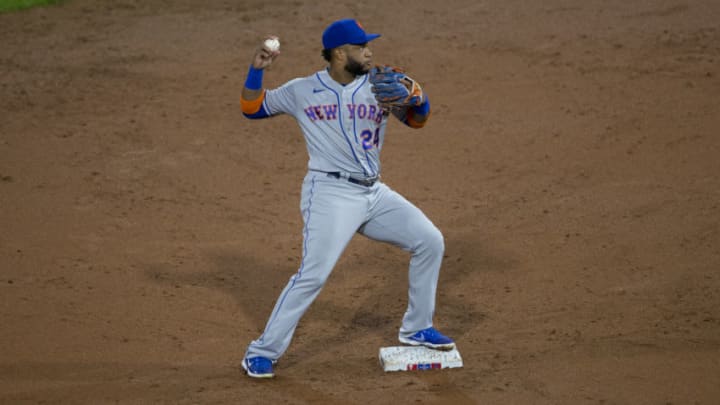 PHILADELPHIA, PA - SEPTEMBER 15: Robinson Cano #24 of the New York Mets throws the ball to first base against the Philadelphia Phillies at Citizens Bank Park on September 15, 2020 in Philadelphia, Pennsylvania. The Phillies defeated the Mets 4-1. (Photo by Mitchell Leff/Getty Images) /
Trevor Bauer has become an essential free agent for the New York Mets to sign following the suspension of Robinson Cano. (Photo by Jamie Sabau/Getty Images) /
With the suspension of Robinson Cano, the New York Mets have an extra $24 million to spend on three free agents who should be a priority this winter.
With the recent news of second baseman Robinson Cano's 162-game suspension for PED usage rocking the baseball world, the New York Mets find themselves in a position with more cash to spend this offseason than originally thought. With the Mets already projected to be one of the most active teams on the free-agent market this offseason, the loss of Cano and his $24 million salary provides the front office with additional flexibility in acquiring players for the 2021 Opening Day roster.
Many around the league widely expected the Mets to be able to sign one or possibly two of the three crown jewel free agents that are currently on the open market. Those three free agents you may know as catcher J.T. Realmuto, outfielder George Springer, and starting pitcher Trevor Bauer. With the Mets having an extra $24 million to utilize there is more of a probability the Mets can now sign two of those three free agents this winter.
There is also speculation that the Mets are interested in another highly regarded free agent in outfielder Marcell Ozuna. This move makes a lot more sense today than it did a few days ago, now that we know Cano is going to miss the entire 2021 campaign.
There are also rumblings that the club could insert a bid for infielder DJ Lemahieu now that there is a void in their infield. It seems as if the possibilities are endless this winter for the Mets and even more so now with more money in their pockets than they expected.
Looking ahead, I believe there are three significant free agents that the Mets should prioritize signing this winter with the additional payroll flexibility they have in 2021. Let's focus on the three most logical options that the front office should now consider signing with Robinson Cano officially out of the Mets plans next season.