New York Mets: Opposite-field hitting, going with the pitch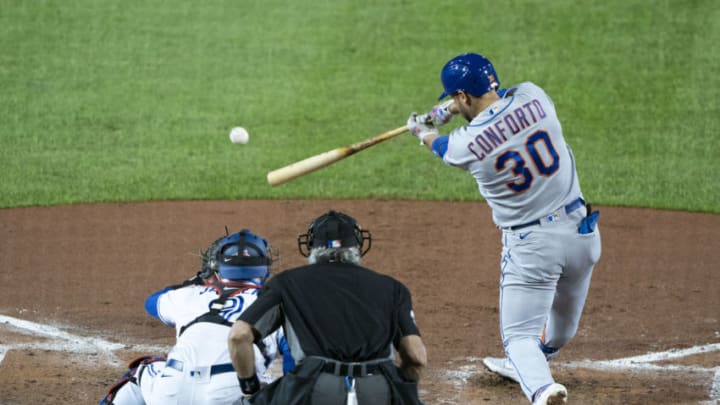 Sep 11, 2020; Buffalo, New York, USA; New York Mets right fielder Michael Conforto (30) hits an RBI single during the fourth inning against the Toronto Blue Jays at Sahlen Field. Mandatory Credit: Gregory Fisher-USA TODAY Sports /
Opposite field hitting and going with the pitch is what has made some of the most successful hitters in New York Mets history so good.
In his Rising Apple article entitled "The breakout of Michael Conforto is here but why now in 2020", Michael Calascione writes that the New York Mets outfielder "…is spreading the ball around the field more in 2020 by dropping his pull percentage and increasing his opposite field and center field percentages and he is hitting the ball harder than ever".
One of the hardest things to do in professional sports is to stand at a distance of 60 feet 6 inches away from someone throwing a 9-inch circumference ball weighing 5.25 ounces at 95 miles per hour with movement from a mound that is ten and a half inches high and try to hit the ball with authority.   Elite ballplayers excel at it as reflected in their career batting average and in their situational hitting.
One of the tips batting instructors give to their players is to "go with the pitch" or "take what's given to you".  This means that the player should swing in the direction the ball is pitched and not try to force the ball to go in a direction that has less of a chance at being a base hit.  For example, if the ball is located on the outer half of home plate, the batter is instructed to try to hit the ball to the field which is closer to the ball's intended location.  An outside pitch to a right-handed player would be hit to the opposite (or right) field, and an outside pitch to a left-handed batter to left field.
Players are reminded not to try to do too much with the ball, as in trying to pull it or swing too mightily.  Rather, take what is given to you and proceed accordingly.   Many broadcasters around the league, including our own Mets SNY analyst Keith Hernandez, will, in real-time on the air, marvel and compliment a player when he "goes with the pitch".
If there is a right-handed batter at the plate with a man on second base and less than two outs, he is instructed to do the right baseball thing and try to hit the ball to the opposite field, thereby advancing the runner to third base where there is a higher success rate (arguably more than 50%) of scoring by a sacrifice fly, passed ball, catcher's interference, a balk, or wild pitch, to name just a few examples.
Historically, as reported by Daniel Stein-Sayles in his Amazin Avenue article entitled "Investigating the Mets' Opposite-field-Hitting Success", two of the Mets' most productive opposite field hitters were David Wright and Daniel Murphy, with a .359BA/.596SP and a .356BA/467SP respectively, both well above the then (2011-2014) MLB average to the opposite field which ranged from a BA of .283-.300 to an SP of .405-.433.
Hitting the ball to the opposite field does not come easy by nature. The angle by which one swings a bat usually results in pulling the ball.  The ability to execute opposite-field hitting with consistency is lauded by many baseball scouts, managers, and analytics departments.
While launch angle and hitting home runs has been a popular trend over the last few years (witness former Met Daniel Murphy's rise to notoriety in 2015 with the spike in his home run rate, especially in the playoffs), going with the pitch requires a different skillset, which (he also already developed as mentioned above and) is admired no less than the homerun feat. It demands more patience to allow the ball to get deeper into the batter's box before swinging, more bat control, and a heightened focus of concentration to actually hit it where the ball is pitched.
Hitting a home run to the opposite field is also singled out as a particularly well-accomplished at-bat.  In today's game with many teams employing shifts, "beating" the shift can play to the batter's advantage.  Not necessarily easy, although quite tempting with that glaring hole away from the pull side. Met position players with power such as Pete Alonso, Robinson Cano, and Dom Smith often come to the plate with one side of the field so open that it is almost a crime not to take advantage of it especially in critical situational hitting AB's.
Many of my articles emphasize lessons we can glean from examples from Mets baseball and apply it in our everyday lives.  This particular topic serves as a good example.  We are given a powerful tool – a body with many parts – in order to accomplish tasks and to derive pleasure.  Not all receive God-given talent in every body part – some are stronger and some weaker, some are taller and some are shorter, and so on.
Hence, our job is to take what we were given and not try to do that which is beyond our capability.  To state that in a positive way, we ought to play the cards we were dealt to the best of our ability.  We can strive for great heights but not at risk of succumbing to injury or continued failure.  In other words, go with the flow.
Life has a tendency to throw nasty curves that cause us to twist and turn and sometimes veer off the destined path.  Nevertheless, if we remember to "go with the pitch", chances abound of knocking in that run from third, getting that extra-base hit or even achieving that prized opposite-field home run. The good feeling that ensues is well worth the effort.
Want your voice heard? Join the Rising Apple team!
Just ask Michael Conforto.
Home
/
New York Mets History