Mets fans, you'll love the new book "The New York Mets In Popular Culture"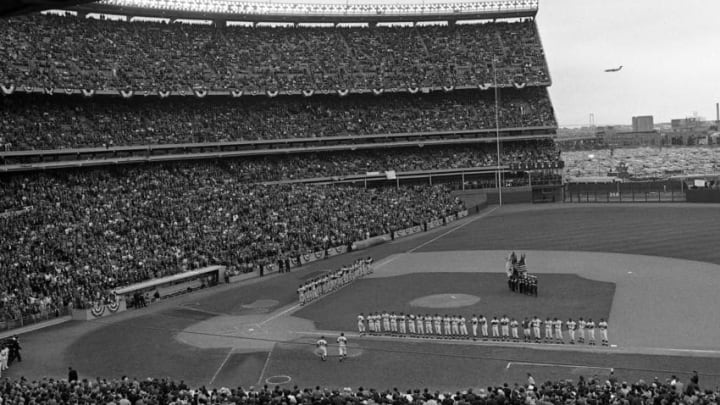 FLUSHING, NY - OCTOBER 14, 1969: General view of the stadium as the teams line up along the first and third base paths prior to Game 3 of the World Series on October 14, 1969 between the Baltimore Orioles and the New York Mets at Shea Stadium in New York, New York. (Photo by: Kidwiler Collection/Diamond Images/Getty Images) /
Find out everything you need to know about the book The New York Mets in Popular Culture by David Krell.
The holiday season will soon be upon us, and New York Mets fans have already gotten the biggest possible present with Steve Cohen becoming the new owner. If you are thinking of adding a few Mets-related purchases to your shopping cart in the near future, look no further than The New York Mets In Popular Culture, edited by David Krell. This is Krell's third "baseball in pop culture" book, following The New York Yankees in Popular Culture, which he also edited, and Our Bums: The Brooklyn Dodgers in History, Memory, and Popular Culture, which he wrote.
The New York Mets In Popular Culture consists of seventeen essays spanning a wide variety of Mets topics. I won't mention every essay topic that's in this book, but to give a taste of a few of my favorites, expect to learn a lot more about Bob Murphy, Joan Payson, and the "original" New York Mets from the 1880s after reading this book.
I have always been interested in baseball as a segment of the entertainment industry and often seek to link baseball subjects with pop culture counterparts in my own writing. For this reason, the topic of this book alone was enough to color me intrigued. I recently spoke with the author via phone, and he shared a similar sentiment.
"I really want to open or expand baseball scholarship to this area," said Krell in our interview. "When you go to SABR conferences or the Cooperstown symposium [on Baseball and American Culture], when you read the baseball research journal, there are not a lot of presentations related to popular culture and baseball intertwining. The short answer is, it's a void that I wanted to fill."
When I think about what makes the New York Mets unique or special, I struggle to come up with a succinct response. The New York Mets In Popular Culture helps answer this question, in book form. Every essay provides a well-researched, insightful view of a segment of team history, giving even the most die-hard of the Flushing Faithful a lot of new information.
The sections on Bob Murphy and Joan Payson are particularly thoughtful. Murphy's chapter focuses on his extensive broadcasting career with the Baltimore Orioles and Boston Red Sox before he came to Queens, which I knew nothing about prior to reading this book. It is an inspired look into how a broadcasting icon got his start and a reminder that successful careers are built on years of hard work and maintaining connections.
At the onset of a new era of team ownership, the chapter on Joan Payson provides a refreshing look back at the Mets' first owner. Payson's family came from a variety of extremely wealthy backgrounds, and Payson was involved in everything from horse breeding to art collecting throughout her life. However, baseball was always her first love. She gave the Mets an endearing charm in their early years and worked tirelessly to make sure that all of New York loved the Amazins as much as she did.
"We know that [Payson] was a stockholder in the Giants and she owned the Mets and Willie Mays was her favorite player," noted Krell. "We knew all that. But the art aspect, the fact that she's in the Whitney family, the fact that she donated millions of dollars to hospitals and was a total benefactor of the arts, I thought was extraordinarily important to have in there."
I came away from this book wishing very much that I could have interviewed Payson or Murphy myself and learned even more about their fascinating lives.
If you are looking for information on the Mets even before their inception in the early '60s, you will also find that period well-represented here. There is a whole chapter devoted to the New York Mets from the 1880s, which had a short-lived stint in the now-defunct American Association. It provides an engrossing peek into the "wild west" of baseball in the 1800s. This essay also conveys that even back then, the New York Mets were the "little brother" of New York baseball teams, though in the 1880s they played second fiddle to the New York Giants and not the New York Yankees.
The New York Mets In Popular Culture is a comprehensive anthology of pop culture references to the Mets, and the essays weave together a common thread of why the Mets have become so integrated into pop culture. Put rather plainly, the Mets represent the rich, diverse history of New York, their home city. No other city is as commonly referenced in pop culture as New York City (at least, it seems that way to me). Thus, it makes complete sense that the Mets (and Yankees) have found their way into many pop culture entities over the past half-century.
By telling the story of the Amazins in pop culture, this book also tells a large portion of the tale of New York itself in pop culture during the second half of the 20th century. New York has always been "a baseball town," as its local sports-talk radio hosts often tell their audiences. A pop culture anthology about New York would simply not be complete without including the Mets.
The New York Mets In Popular Culture is not heavy on statistics, analytical breakdowns, or play-by-play commentary. It focuses much more on quotes from movies, TV shows, and commercials to get its points across. With that evidence in hand, it reminds the reader that sports is inseparable from the entertainment industry, after all. Baseball is pop culture.
By convincing the reader of this very point, Krell and his fellow essay writers have, indeed, filled a gaping void in the world of baseball literature. I look forward to seeing what other work their book inspires.
Want your voice heard? Join the Rising Apple team!
The New York Mets in Popular Culture is available now via Amazon and Barnes and Noble.