NY Mets: How much will Steve Cohen pay Michael Conforto?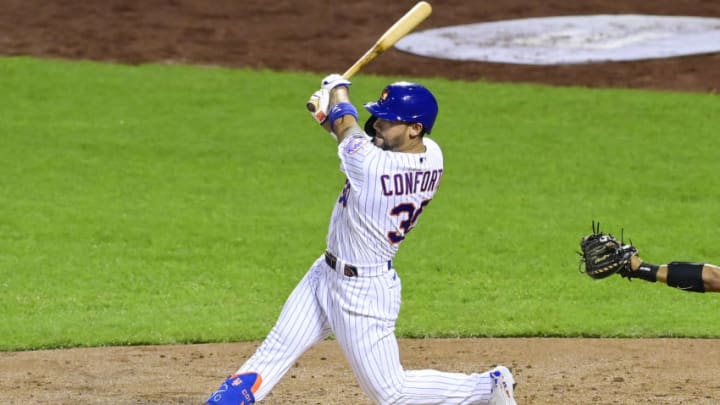 NEW YORK, NEW YORK - SEPTEMBER 08: Michael Conforto #30 of the New York Mets at bat against the Baltimore Orioles at Citi Field on September 08, 2020 in New York City. (Photo by Steven Ryan/Getty Images) /
It will be up to Steve Cohen to pay Michael Conforto. What will the New York Mets right fielder take home through a contract extension?
The New York Mets enter the MLB offseason with an unprecedented level of excitement and expectation. The pending ownership transition from the historically stingy Wilpon family to billionaire Steven Cohen, who will become the wealthiest owner in the league, potentially opens the door for major roster improvements.
There has already been rampant speculation that the Mets could be serious contenders for game-changers such as J.T. Realmuto, George Springer, and Trevor Bauer. However, the franchise has another major financial discussion to make involving a player on their own roster: budding star Michael Conforto.
Conforto, who enjoyed a career pinnacle in 2020, is set to enter his third year of arbitration this offseason and become an unrestricted free agent in 2022. This raises some important questions about the future partnership between Conforto and the Mets. Most pressing, what is the right fielder's market and what could a contract extension look like in terms of years and dollars? Let's take a look:
How good is Conforto?
Mets fans already know this answer. He's really good! The six-year veteran is a former All-Star and is a virtual lock for 25+ homers, 80+ RBI, and 80+ walks. After seeming to establish himself as a hitter who would always hover around a .250 batting average, Conforto broke through with an amazing .322 average over the entire course of the shortened 2020 campaign.
If he had kept this pace over a full 162 game season, he would have posted a 6.4 WAR. This would have made him an NL MVP candidate. And possibly one of the favorites. While there is a possibility of some regression over a full slate, there is also reason to believe that Conforto has made a significant leap.
The right fielder has also established himself as a premier defensive option in RF. While he did not have the tools to man the much more difficult center field position with consistency, Conforto is a phenomenal option at a corner spot. His ability to cover space and anticipate make him effective. His arm strength elevates him even further.
Where does he rank amongst right fielders?
Right field is one of the deepest positions in MLB. Superstars like Mookie Betts, Christian Yelich, Aaron Judge, Bryce Harper, and Ronald Acuna Jr all headline the most elite options.
At this stage in his career, Conforto is on the outside looking in when it comes to this top tier. However, he has clearly established himself as one of the best players in the second tier.
If the aforementioned players round out the top six, there are very few other stars that can make an argument to supplant the Mets' slugger. Charlie Blackmon of the Rockies is several years older than Conforto, but for a single 2021 season, I would give him the edge.
However, I would confidently place the Mets' star above players like Nicholas Castellanos, Joey Gallo, Jorge Soler, Max Kepler, or any others who would contend for supplant him.
My personal RF rankings are as follows:
Betts,
Acuna,
Yelich,
Harper,
Judge,
Blackmon,
Conforto,
Castellanos,
Kepler,
Gallo
What is the market precedent?
Here's the big question. If the Mets are serious about retaining their homegrown star, what is a reasonable expectation in terms of years and dollars?
To answer this question, the best place to start is by considering the market of similar players. For what it's worth, Blackmon currently has a six-year, $108 million deal. Castellans on the other hand recently inked a four-year deal worth $64 million. Similarly, a player Justin Upton (5-years, $106 million) also may shed some light on the market considering the talent and context of when the deal was completed.
Considering the fact that Conforto seems content to carve out a place in the history of the franchise that drafted him and have helped cultivate him into a star, this does not seem like a situation where the Mets will need to overpay.
What could an extension look like?
I would begin by offering a deal in the realm of five-years with a $115 commitment. Like Blackmon and Castellanos, at least one player opt-out would likely be negotiated into the deal as well. This move would allow Conforto to have an average of $23 million per season, and re-enter free agency with a chance to earn at least one more substantial contract. It would also allow the Mets to retain their star through his age 33 season, without crippling their ability to pursue other roster upgrades.
Conforto is represented by the infamous agent Scott Boras. So, there's little chance the two parties agree to too large a hometown discount.