Mets Monday Morning GM: Cheap starting pitching ruined the season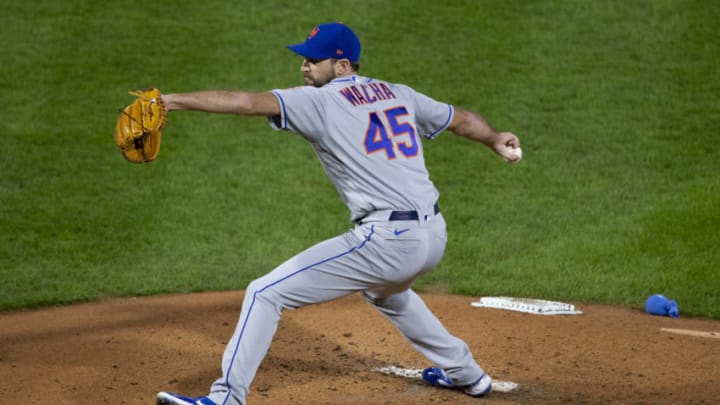 PHILADELPHIA, PA - SEPTEMBER 16: Michael Wacha #45 of the New York Mets throws a pitch in the bottom of the third inning against the Philadelphia Phillies at Citizens Bank Park on September 16, 2020 in Philadelphia, Pennsylvania. (Photo by Mitchell Leff/Getty Images) /
The New York Mets doomed themselves by going the cheap route in free agency last winter.
The New York Mets won't play another baseball game until the spring when we hope to have a similar-looking roster with a few shiny toys mixed in. The 2020 season is over and it's time to point some fingers. My index lands squarely on the poor starting pitching.
Brodie Van Wagenen had a chance to make starting pitching an asset for the Mets yet again in 2020. Well before the pandemic, he went the cheap route instead.
We don't blame the GM as the sole proprietor of this. The Wilpons gave him a budget and working within it is never easy.
Instead of, let's say, re-signing Zack Wheeler or ponying up the money for a reliable starter, the Mets brought in Rick Porcello and Michael Wacha. The two both came to New York on one-year deals hoping to add to their value for this coming winter. Neither were able to give themselves a boost.
Porcello finished the 2020 season 1-7 with a 5.64 ERA. I know wins aren't supposed to matter. Losses sure do.
Wacha, who insisted early on that he "came here to start," didn't win many Mets fans over. He went 1-4 with a 6.62 ERA. Had the Mets played a full 162-game schedule and there was any other option they could turn to, Wacha would have found himself a permanent place in the bullpen.
I know the Mets didn't see a shortened season coming. They didn't know Noah Syndergaard would miss the year due to injury, Marcus Stroman would opt-out, and Steven Matz would be in his first-inning-in-Philly mode all season long.
Bad starting pitching wasn't the only reason why the Mets failed to make the extended playoffs in 2020. Looking at the numbers, however, it's hard to say anything else was a bigger fault.
Last year, the story of the Mets had everything to do with the bad bullpen. This wasn't the case in 2020. The relievers, even some of the worst from the year prior, figured it out. It wasn't a nightmare whenever the bullpen phone came off the hook.
Instead, we were subjected to some bad performances at the onset of the game. It all starts with the decision to sign Porcello and Wacha over everyone else.
Playing Mets GM
In hindsight, which we have the benefit of on Mets Monday Morning GM, Hyun Jin Ryu would have been a superb addition if the team still wanted to move on from Wheeler.
Of course, nobody had this benefit back then and he would have cost more than Porcello and Wacha combined. Plus, The Wilpons were already in "we're prepared to sell as soon as possible" mode and seemingly unwilling to make any new commitment beyond 2020.
Aside from Ryu and Wheeler, there were no top-name free agent starting pitchers that performed well in 2020—at least those among the crew with any realistic possibility whatsoever of pitching for the Mets. Madison Bumgarner was never calling the Big Apple home. Even he had a horrible statistical season in 2020.
I find free agency is rarely the answer when it comes to bettering a starting rotation. Sure, you can occasionally find a stud on the market or a diamond in the rough. Typically, you're signing a player to an overpriced deal.
This winter, I want to see the Mets do more than just pay money. A smart trade could be the best way to land a starting pitcher they wouldn't otherwise have an opportunity to employ.
Want your voice heard? Join the Rising Apple team!
With a surplus at multiple positions, we may need to say goodbye to one of our favorite position players in order to land Jacob deGrom's Robin.