NY Mets: Four reasons why you shouldn't miss The Wilpons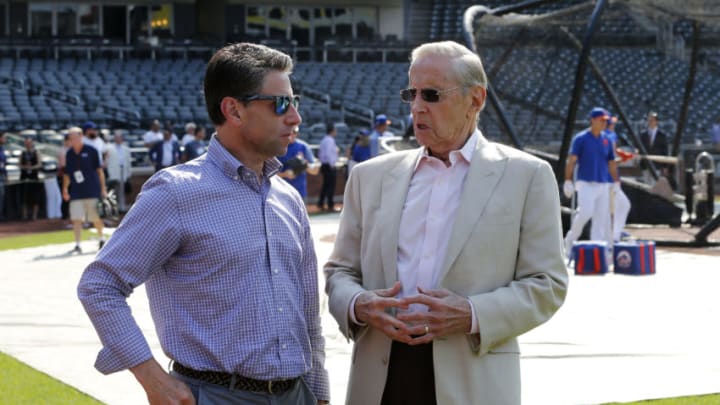 NEW YORK, NEW YORK - JUNE 28: (NEW YORK DAILIES OUT) New York Mets COO Jeff Wilpon (L) and majority owner Fred Wilpon during batting practice before a game against the Atlanta Braves at Citi Field on Friday, June 28, 2019 in the Queens borough of New York City. The Braves defeated the Mets 6-2. (Photo by Jim McIsaac/Getty Images) /
NEW YORK, NY – JANUARY 24: New York Mets Chief Operating Officer Jeff Wilpon and Chairman of the Board & Chief Executive Officer Fred Wilpon listen in as Luis Rojas is introduced as the team's new manager at Citi Field on January 24, 2020 in New York City. Rojas had been the Mets quality control coach and was tapped as a replacement after the newly hired Carlos Beltrán was implicated for his role as a player in 2017 in the Houston Astros sign-stealing scandal. (Photo by Rich Schultz/Getty Images) (Photo by Rich Schultz/Getty Images) /
Reason #4: The Wilpons have a history of treating their employees badly and poorly running their team operations
Ken Davidoff reported in 2017 for The New York Post:
"Conversations with 10 people possessing first-hand knowledge of the Mets' baseball operations produced the picture of … an environment where CEO Fred Wilpon and COO Jeff Wilpon both are prone to micromanagement, with Fred Wilpon more likely to assert himself in on-the-field decisions and Jeff Wilpon more involved in medical matters — such as working on media releases about injuries — clouding the chain of command."
How are the Mets supposed to function when the top of their organizational ladder is so dysfunctional? If the chain of command is cloudy in a work environment, the employees may not be able to do their job as well. The Mets operation was terrible under the Wilpons who had to sign off on every decision the team made.
This is not how owners of a sports franchise should act. They would rather retain power and control over the team than giving the job to professionals who can actually get them a shot at winning. Fans deserve to have the team run by people who know what they're doing than the son of the owner.
Jeff has also treated an employee horribly by bullying her.
In 2014, Leigh Castergine, a former senior vice president for ticket sales sued Jeff Wilpon for discriminating against her for being pregnant without being married. Jeff said, "When she gets a ring, she'll make more money and get a bigger bonus."
Leigh also said that Jeff said in a meeting, "I am as morally opposed to putting an e-cigarette sign in my ballpark as I am to Leigh having this baby without being married."
When Castergine complained to HR, she was fired from the Mets. The behavior by Jeff is extremely unprofessional and worth firing over if he wasn't the owner's son. Fostering a workplace environment such as this at the Mets is unacceptable. Jeff is being a shmuck talking to an employee this way.
Castergine reached a private settlement with the Mets in 2015.
The way the Wilpons have treated their on-field staff members have been slimy at times. In 2008, the Mets famously fired Willie Randolph at 3:11 AM after letting him travel all the way to California. That is an incredibly rude way to treat your employee. If you were planning on firing him, the Wilpons should have done it before he flew to the west coast and especially not at 3:11 AM.
The worst part is that the Wilpon's had Omar Minaya do the deed for them. Fred and Jeff didn't even tell Randolph themselves. It's a cowardly move that had no professional integrity and no regard for Randolph's well being.
In 2018, the Wilpons scapegoated Sandy Alderson who was sick with cancer by firing him and blaming him for not signing top free agents and having a small analytics department.
In 2011, Fred called the face of the franchise David Wright, "a really good kid … not a superstar." Why would the owner of a sports franchise say that about their best player? What does he have to gain by saying that? All he is doing is disrespecting the face of the franchise who will spend his whole career in a Mets uniform and is the team's best offensive player of all time.
David Wright was a superstar and a surefire Hall of Famer before injuries cut his career short. There's no reason to say he wasn't one. Just a terrible thing for an owner to say.
Want your voice heard? Join the Rising Apple team!
Fred and Jeff Wilpon in many instances treated the people and players they worked with terribly and fostered a dysfunctional workplace environment. Steve Cohen needs to bring stability to the Mets organization and create a more productive and smoother operation.