NY Mets: Four reasons why you shouldn't miss The Wilpons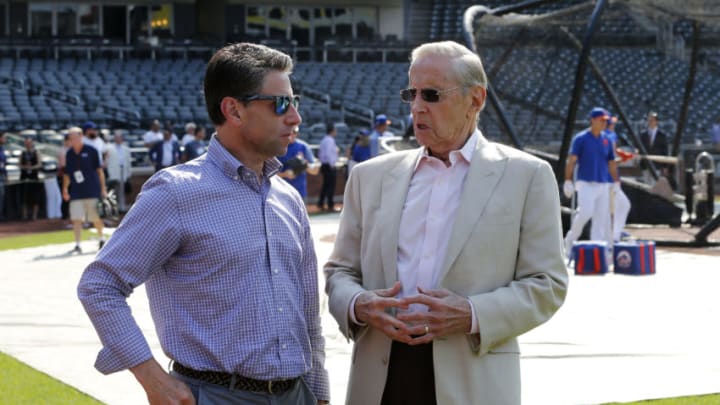 NEW YORK, NEW YORK - JUNE 28: (NEW YORK DAILIES OUT) New York Mets COO Jeff Wilpon (L) and majority owner Fred Wilpon during batting practice before a game against the Atlanta Braves at Citi Field on Friday, June 28, 2019 in the Queens borough of New York City. The Braves defeated the Mets 6-2. (Photo by Jim McIsaac/Getty Images) /
NEW YORK, NY – SEPTEMBER 13: New York Mets COO Jeff Wilpon speaks to the media prior to a game against the Miami Marlins at Citi Field on September 13, 2018 in the Flushing neighborhood of the Queens borough of New York City. The Mets defeated the Marlins 4-3. (Photo by Jim McIsaac/Getty Images) /
Reason #3: Jeff Wilpon's Mediocre Meddling
Fred's son Jeff no longer being apart of the decision-making for the Mets is the third reason that you shouldn't miss the Wilpons. Jeff is the bratty nepotistic son of a billionaire who meddles with all of the Mets' affairs.
After co-owner Nelson Doubleday sold his half of the team to Fred, he criticized Jeff for being heavily involved in the daily operation of the team.
""Mr. Jeff Wilpon has decided that he's going to learn how to run a baseball team and take over at the end of the year. Run for the hills, boys. I think probably all those baseball people will bail.""
Doubleday warned us about Jeff's role with the Mets and his prediction to "run for the hills, boys," was wise advice. Jeff's meddling was out of control.
Joel Sherman reported in 2004 that in an interview with Jeff Wilpon, "he did not dispute he is in charge of the day-to-day running of just about every facet of the organization from clean bathrooms to player procurement."
Joel Sherman also reported in 2010 that a baseball executive in regular contact with the Mets said:
""Jeff is the problem with the organization, and he is never going to realize that. He cannot help himself. He has to be involved. He will never hire anyone who will not let him have major input. He will not hire anyone who does not run every personnel decision through him.""
Sportswriter Peter Gammons called Jeff Wilpon the Mets GM and said that Omar Minaya is only 'out there to take the heat.'
In 2005, Jeff forced the injured Pedro Martinez to pitch through it, saying, "While I'm the boss here, you're going to have to do what I say."
Do you get the idea? Jeff Wilpon overstepped his role as the owner's son and ran the baseball operations of the Mets. It is extremely unprofessional for Jeff to do so and has only hurt the Mets organization. Jeff should not be making major decisions pertaining to roster construction and baseball gameplay.
Jeff should have left the baseball decisions to the smartest professionals in the industry instead of signing off on everything himself. If the goal is to win a World Series than an owner would best meet that goal by hiring a smart industry person and not by leaving it to the owner's son.
Removing Jeff from the Mets operation is going to be a huge boost to the team's functionality. There are countless more examples not listed here about the Wilpon's meddling in on-field decisions, medical decisions, and roster constructing decisions.
Hopefully, Steve Cohen doesn't overstep his role as owner and leaves the baseball stuff to baseball professionals. The Mets are going to be so much better off not being run by Jeff Wilpon.