Mets: Tracking Jacob deGrom's quest for perfection in the major leagues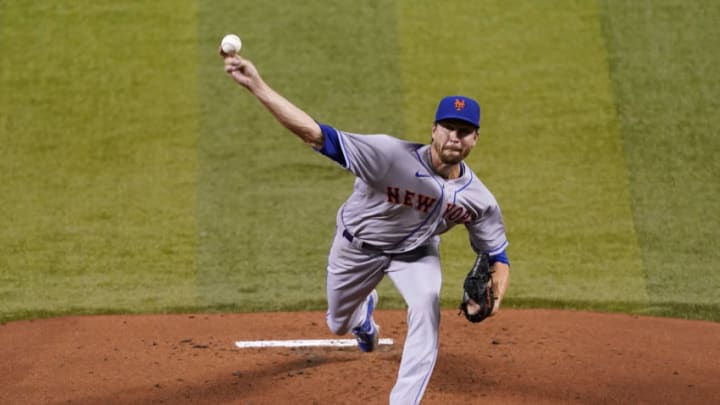 MIAMI, FLORIDA - AUGUST 19: Jacob deGrom #48 of the New York Mets delivers a pitch during the game against the Miami Marlins at Marlins Park on August 19, 2020 in Miami, Florida. (Photo by Mark Brown/Getty Images) /
New York Mets pitcher Jacob deGrom has always been on a quest for perfection.
On November 10, 2014, New York Mets pitcher Jacob deGrom won the National League Rookie of the Year award. He was the man of the hour on SNY, the talk of the town in New York, and a bonafide star in the major leagues. SNY analysts asked him how he was able to be so successful on the biggest stage in sports, and he repeated what has now become a mantra.
"I'm a pretty simple person. I just tried to keep it simple."
For deGrom, that simplicity manifests itself in his longtime walk-up song, "Simple Man" by Lynyrd Skynyrd. It also manifests itself in his simple approach to the game: give up as few runs as humanly possible.
Surely, deGrom knows that he is the best pitcher in baseball. But it is comforting to hear him stick to a familiar refrain in his post-game interviews for the last seven years. No matter how he pitched in the game, deGrom's goal is simple: "go out there and put up zeroes."
He often dissects he did wrong during his starts, making a note to improve upon his few mistakes in future outings.
In an interview from the 2015 playoffs, deGrom was asked about his two NLDS starts against the Los Angeles Dodgers, both of which he won. deGrom focused most of his answer on the game five start, in which he went six innings, gave up two runs, and struck out seven batters against the formidable Dodgers lineup.
"The second game, that one was tough. I didn't have any fastball command, and I think my curveball was my best pitch. The second game was definitely a battle. I feel like it was more impressive because it wasn't easy.. . . Hopefully tomorrow I have my best stuff, but if not, I think I'll be able to keep us in the ballgame."
More from Rising Apple
After a start in early July 2016, a 4-2 Mets victory over the Miami Marlins, deGrom had a satisfied but still slightly frustrated attitude in the post-game interview.
In said start, he went seven innings and allowed two runs on two solo home runs. deGrom got the win, which has become a rarity in his career since then. He acted as if he had a long way to go before his pitching would be deemed acceptable.
When asked how that night's outing went, deGrom responded, "I would say it's better than where I started. Things are starting to come back. I'm pretty happy with the day, just two pitches [where] I made a couple of mistakes over the middle and [Giancarlo] Stanton hit the ball pretty far."
If you're wondering where deGrom "started" in 2016, his ERA entering this outing against the Marlins was a mere 2.62. Clearly deGrom's determination to improve worked out; his next start was a one-hit shutout against the Philadelphia Phillies.
In an SNY segment from early 2018, studio analyst John Harper mentioned an interview with deGrom where the righty pitcher vehemently vowed to improve his pitching.
"He was frustrated by some of his poor starts [in 2017], felt like overall he should have done better. He's putting it out there, he wants to win the Cy Young award."
In 2017, which was to date deGrom's worst season as a Met, he finished 8th in Cy Young voting.
In 2018, he won the NL Cy Young award in a landslide.
After winning his first Cy Young award in 2018, deGrom was interviewed live on MLB Network. In a year where searching for a needle in a haystack might have been more effective than finding flaws in deGrom's season, the righthander still good-naturedly alluded to one area of his game that needed work.
"We still have the batting cage at my parents' house. I'm gonna have to start going over there and hitting a little more. That was a pretty poor performance from me this year, so I've got to step up that a little bit."
deGrom's attitude about pursuing perfection comes from a well of confidence. His continual focus on where he needs to get better is believable because he has shown that he can set his mind to an area of his game and improve it. deGrom is confident enough to mention specific mistakes because he knows he has the intelligence and mechanics to correct them.
Nowhere was his quest for perfection more pronounced than on November 13, 2019, the night he won his second consecutive Cy Young award. Before that season, no Mets pitcher had ever won two straight Cy Youngs. deGrom had just achieved an incredible accomplishment, shared by only ten other pitchers in MLB history. Yet deGrom focused over half of his interview with SNY on one of the low points of his 2019 season.
"This year I had to overcome that little stretch I had there with three or four bad starts in a row and figure out a way to get back on track. . .  I think I had a little added pressure on myself trying to think about things that had already happened. Hopefully, I can go out there and try to improve."
Steve Gelbs then asked him directly, "Do you consider yourself a perfectionist?"
deGrom responded, "A little bit. You know, I still think about those three bad starts and how I let those get out of control. . . Those three starts still aggravate me. I think that does help me with how I take the mound and how I do constantly want to get better."
By now, Mets fans have grown accustomed to, as Gary Cohen puts it, "routine brilliance" from deGrom. He strives higher and higher with every season in the major leagues. That quest for perfection may have crept into his velocity, which has steadily increased every single year since his debut. Over the past five years, deGrom has added nearly five MPH to his average fastball velocity, rocketing it from 93.9 MPH in 2016 to nearly 99 MPH in 2020, at age 32. That remarkable velocity increase is the largest recorded for any major league pitcher dating back to 2008.
As scary as it may sound for opposing hitters, deGrom is already the best pitcher in baseball, and he's apparently only getting better.
But deGrom's mental dedication to perfection is just as important to his improvements as his velocity. There are many MLB pitchers with 96+ MPH fastballs. None have prevented runs and commanded their pitches as well as deGrom over the past few years.
deGrom's constant focus on his room for growth is a sign of his greatness, not of negativity. It is clear that encountering a little adversity makes him a better pitcher. deGrom's opposing batting average with runners in scoring position (RISP) for his career is .212, which is slightly better than his opposing batting average of .214 without RISP.
When the pressure is on, his concentration improves. He morphs from deGrom into deGoat, and always seems to get the job done. He is at such a high level of pitching that his post-game interviews almost come across as nit-picky, with reporters searching for things to ask him and deGrom refusing to rest on his own laurels. As long as he believes he hasn't reached his full potential, deGrom will only continue to improve.
On August 3, 2020, deGrom struck out 10 in six innings against the first-place Atlanta Braves, giving up only two runs and notching his first win of the season. He had an excellent outing by all accounts, except his own.
Gelbs asked him why he seemed "frustrated" over the last couple of innings. deGrom answered, "In the fifth, I wasn't able to throw my offspeed for strikes or where I wanted, left a couple balls over the middle, and that's how they scored a couple of runs. I was frustrated with that, I was having a hard time gripping the ball and made a couple of mistakes. Like I said, I don't like making mistakes."
Want your voice heard? Join the Rising Apple team!
The Mets won, deGrom got the win, and he had double-digit strikeouts. His season ERA at that point was 2.12. He still wasn't satisfied. Nothing about his attitude towards pitching has changed despite the two Cy Young awards. And that is why he is not just deGrom. He's deGreat.