Three Mets predictions for the final three weeks of the 2020 season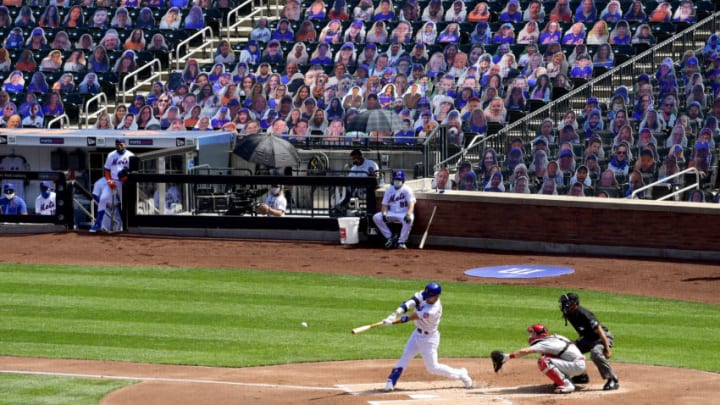 NEW YORK, NEW YORK - SEPTEMBER 06: Michael Conforto #30 of the New York Mets hits a double against the Philadelphia Phillies during the first inning at Citi Field on September 06, 2020 in New York City. (Photo by Steven Ryan/Getty Images) /
NEW YORK, NEW YORK – SEPTEMBER 06: Jacob deGrom #48 of the New York Mets delivers the pitch against the Philadelphia Phillies during the sixth inning at Citi Field on September 06, 2020 in New York City. (Photo by Steven Ryan/Getty Images) /
Jacob deGrom locks in his Cy Young case
I don't know if Jacob deGrom is actually going to win another Cy Young or not. What I do know is that he'll pitch well enough in the final three weeks to lock in his case for the award.
Nobody in the league is a better pitcher than deGrom. Despite what some numbers may suggest right now, I don't think there is a National League pitcher too many managers would prefer to see on the mound more.
Yu Darvish has had a spectacular 2020 season. However, as we have seen in the last two seasons, many of deGrom's best contenders for the Cy Young often fade down the stretch.
deGrom's greatest weapon throughout his career has been consistency. Even in the 2017 season when he gave up more runs per nine than usual he was a contender for the Cy Young. That's because Big Jake does a lot more than just prevent runs. He goes deep into the game, embarrasses batters, and gives his team a chance to win every fifth day.
There's no reason to think deGrom is going to hit a wall this year. He's not "due" for a bad stretch because he has never showed a tendency to get into any sort of funk.
It has been a while since deGrom has been able to pitch a game this late in the year with purpose. I think knowing how much more meaningful these games are can give him an even greater boost—as if he needs any more motivation.
That's right. My second prediction says that deGrom is awesome.