NY Mets: Edwin Diaz is a sunk cost in need of some repurposing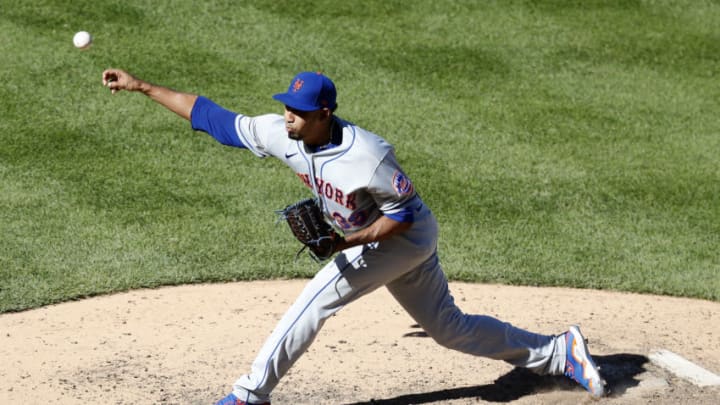 NEW YORK, NEW YORK - AUGUST 30: Edwin Diaz #39 of the New York Mets pitches during the eighth inning against the New York Yankees at Yankee Stadium on August 30, 2020 in New York City. (Photo by Jim McIsaac/Getty Images) /
Edwin Diaz hasn't been the closer the New York Mets were hoping for. Rather than trading this sunk cost, it's better to repurpose him into a new role.
It cost the New York Mets a lot to land Edwin Diaz in the winter of 2018. The trade with the Seattle Mariners cost them two notable prospects, Justin Dunn and Jarred Kelenic. Even though other players were involved, the consensus seems to be that those two were swapped for Diaz and the others were traded for each other.
However you want to break down the trade, Diaz looks like a sunk cost. The Mets paid a lot to get him and he hasn't been a profitable investment. His days as the team's closer may already be over.
Fortunately, this doesn't mean Diaz is useless. The Mets can salvage a little more out of him with some repurposing.
I think the Mets may be as fed up with Diaz blowing saves as the fans. He was put on a short leash in 2020 and this winter, it's reasonable to believe they look for an upgrade.
This doesn't necessarily mean the Mets have to put Diaz in the trash. Instead, looking at his strengths could help them fix another issue they have had in recent years: those bridge innings to the ninth.
Diaz has been much better in non-save situations which tells me he's not a complete waste of a roster spot. Putting him in as the seventh or eighth inning man could help make the initial trade look just a bit better.
There comes a point in any transaction when the value of what you have bought goes up or down. Diaz's is at a low but that could have a lot to do with how the team uses him. It's not ideal nor does it justify the trade in the least bit. What it can do is give New York something they still need plenty of—good bullpen arms.
The Mets have more than just Diaz to figure out for 2021. Seth Lugo has already shifted to the rotation where I think he'll stay. Robert Gsellman should compete for the fifth starter spot, leaving yet another opening in the bullpen for Diaz to take a demotion from the closer spot.
Even if teams come calling for Diaz in trades, the Mets might be wiser to hold onto him and use the young man in the best way possible. It's clearly not in the ninth inning.
Want your voice heard? Join the Rising Apple team!
Odds are far more in favor of Diaz succeeding as a setup man than the Mets trading him for anything better. This is the next gamble the Mets should take in their attempt to get anything at all from the man they thought would be their closer for a few years.