Mets: Four bats the Mets might trade for a starting pitcher this offseason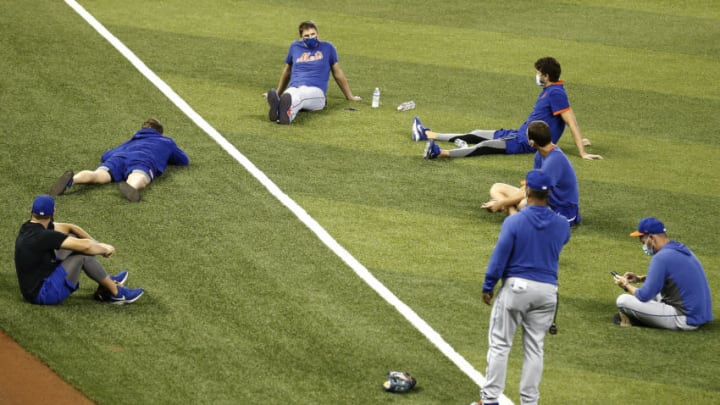 MIAMI, FLORIDA - AUGUST 20: Members of the New York Mets socially distance on the field after the game between the New York Mets and the Miami Marlins was postponed due to a member of the Mets organization testing positive for COVID-19 at Marlins Park on August 20, 2020 in Miami, Florida. (Photo by Michael Reaves/Getty Images) /
MIAMI, FLORIDA – AUGUST 19: Brandon Nimmo #9 of the New York Mets in action during the game against the Miami Marlins at Marlins Park on August 19, 2020 in Miami, Florida. (Photo by Mark Brown/Getty Images) /
Mets trade candidate Brandon Nimmo
We've probably heard all of the negative things about Brandon Nimmo before. Some people still don't believe he's an everyday player. Despite some pedestrian batting average numbers, he still finds ways to reach base. Mostly, it's via the walk.
Nimmo has some obvious shortcomings which have made him a Mets trade candidate for more than a year. After his terrific 2018 season, some wanted the club to sell him high and cash in. Others preferred to watch the happiest man in baseball develop further.
The 2019 campaign was a bit of a wash because of injuries. In 2020, we have seen Nimmo is one of the best OBP guys in baseball. This is harder to find than some people make it out to be.
At the beginning of this season, it didn't seem like the club was willing to commit to any one player in the leadoff role. Nimmo seems to have won the job thanks in large part to how much he visits first base.
It's an intangible not every player brings to the diamond. Making pitchers work deeper into the counts and putting pressure on the opponent in doing so make Nimmo incredibly valuable to the Mets.
So, why the heck would they trade him?
Nimmo is more of a corner outfielder than an actual center fielder. The Mets have other options in the corners and no "true center fielder" with the same offensive skills as Nimmo or anyone else on the club.
The trouble with trading Nimmo is that he might be the best center field option they have when you combine bat and glove. Even as a liability on defense, he can do enough in other ways to show his value.
No matter how sweet we get on Nimmo, there's always a chance he ends up in a new city this winter.