NY Mets: Steve Cohen should bring back "Sign Day" for Mets fans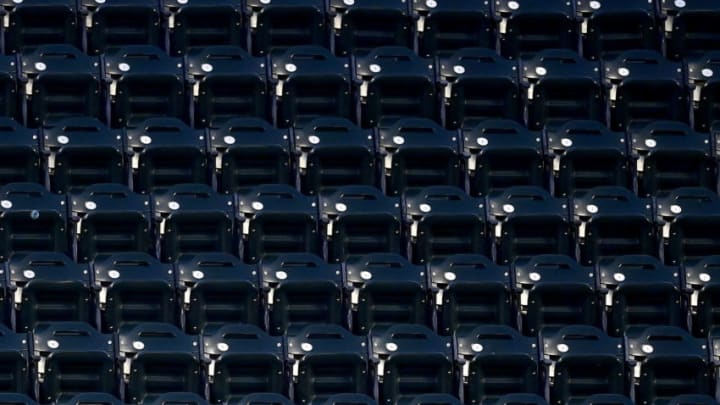 NEW YORK, NEW YORK - AUGUST 11: Mr. Met sits amongst empty seats with a mask on during the game between the New York Mets and the Washington Nationals at Citi Field on August 11, 2020 in New York City. Due to concerns of the spread of the coronavirus, MLB games are being played without fans. (Photo by Steven Ryan/Getty Images) /
A lot can change when Steve Cohen becomes owner of the New York Mets. One thing in the stands I would like to see is the return of Sign Day.
When Steve Cohen takes the reigns of the New York Mets, he'll take ownership of a team that needs some polishing when it comes to their on-field product.
Owning a professional sports franchise goes further than simply controlling the assets on the field, however. It is about attracting fans to the stadium and ensuring that they have a pleasant experience.
Luckily for Cohen, he will inherit one of the most beautiful stadiums in Major League Baseball, that comes complete with enough dining and drinking attractions to attract even the most casual of baseball fans.
More from Rising Apple
One way that owners attract fans to games is through promotions, and the ideas for promotions have become more and more unique as the fan experience has evolved.
While it is always important to keep up with the trends in terms of promotions, Cohen could use a file from the history books of the Mets to make fans smitten with him.
Sign Day, which was a promotion that encouraged fans to create their own signs celebrating their favorite team, is a classic promotion that should be brought back to the stadium when fans are allowed to return.
The promotion used to be a classic day at Shea Stadium, with the smiles of people young and old displaying their artwork. The fans who brought signs to the game were able to parade their poster around the ballpark, adding to the spectacle of the day.
This is a day that could help monumentally in bringing people to Citi Field to see the Mets. It will attract older fans who have memories of strolling around Shea with their art when they were younger, and it also would give younger fans the opportunity to proudly display their art.
It would also allow young fans to walk on the field, which is absolutely mesmerizing to a young person. No matter how hard you try, you are never able to erase your first glimpse of a Major League baseball field after walking out of a tunnel.
As the popularity of baseball has begun to fade amongst young people, this could be a great way to expose young fans to the game.
Want your voice heard? Join the Rising Apple team!
Having Cohen as the new owner of the Mets will undoubtedly be a breath of fresh air to the franchise and the fans. Bringing in some of the traditions of the older days such as Sign Day would help to re-establish tradition in the franchise, while helping to bring new fans into the game.